Making a Golf Trip Special 5 Tips
One of the key starting points to planning a golf vacation is what golfing destination and how much time needed for planning and administration.  Some will gladly work on booking the golf courses, hotels, transport, create sharing files for everyone to follow and spend lots of time organising the whole adventure. However, I have five detailed tips that can reduce down the amount of time. Or contact Concierge Golf Ireland and we will arrange the complete golf trip.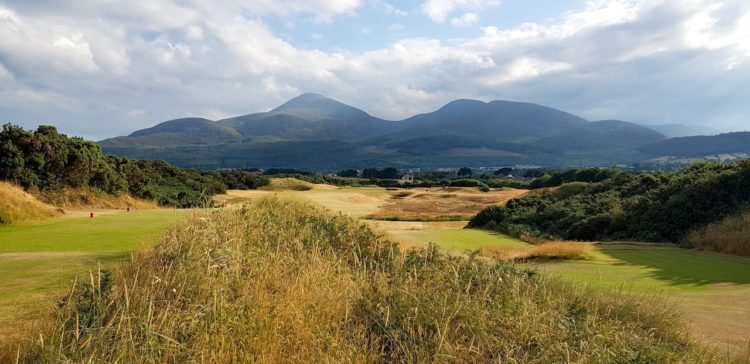 1. Why an Irish Golfing Trip?
A great friend's birthday celebration?
Father and sons or son, mother and daughter, or a family golf holiday?
A golf vacation arranged by the Golf Club or Club Professional?
A golf event arranged by a Company?
Bucket list golf trip?
Couples golf and sightseeing touring?
Initially set the travel dates amongst the group as well as identifying the golfing destination and the golf courses that you would like to play.  Additionally, plan for extra fun activities in the various towns that you travel through. For example; sighting activities for non-golfers or is there a sporting event that would be cool to watch. Such as the Irish Gaelic Games finals in Dublin during August and September. Click here to watch a hurling game final from 2013.
2. Good Planning:
Early planning can save you money on buying 1st class airline tickets.
The fastest way for golfers to travel around Ireland is by using Helicopters.
Check the logistical timings between golf club tee time and distance to travel to and from the various destinations. Coach drivers can only operate for a period each day and require a rest period between the time the bus switches off and starts up. Therefore, avoid booking late and early morning tee times in a row despite a possible long travel time from the hotel to the golf course.
Downloading Google maps for offline use can be helpful when the rental car driver makes a wrong turn.
Notably, the rental car sizes are different from European Counties to USA and Canada. Standard cars are smaller in Europe than North America and check the size of the vehicle size before confirming. Whereas, the luggage space in a rental is an essential requirement on a golf trip.
Always pack rainwear, rain gloves and extra comfortable clothing to wear during poor weather. It is known that the Irish weather is impossible to predict. However, during the months of May to October golfers can enjoy great Irish weather.
A golf trip is not a golf tip without detailed planning for almost every eventuality
3. Ireland Golf Courses:
More or less each golf course will operate difference payment terms and conditions. Please, take note and understand the deposit and payment process for each golf course that you are booking.
Certainly, consider booking golf course tee times a year in advance to secure the best suited times.
Don't rush and enjoy the golf clubhouse 19th hole experience after golf. Also, consider budgeting for five to six hours at each golf course before departing.
Play golf early morning and avoid the midday rush whereas at some golf courses caddies can become a limited service after 11 am.
Golf Clubs are mini-communities, enjoy the course to discover the culture…
4. Accommodation/Hotels:
Identify the standards of accommodation required by the group. Hotels operators will offer rooms at different prices, terms and conditions comparing individuals to larger groups. Which a detailed contract can be a require on booking and let the buyer beware as negotiating out of an agreement can be difficult.
Country houses tend to offer a more personal service than hotels although hotels are better equipped to service larger groups. There a range of accommodation types and standards available in Ireland and choose from 5*, 4* to 3* hotels. Castles, Guesthouses, Bed and Breakfasts, AirB&B and the RV.
5. Dining:
Become an Irish food expert…
Each Irish city and town has a vast range of food options. Arguably, Dublin would have a higher number of restaurants than Cork or Belfast. However, the seaside village of Kinsale overlooking a magical harbour linking to the Atlantic Ocean offers excellent seafood restaurants to enjoy such as Fishy Fishy, the Bulman and Finns Table. Not forgetting, please notified each restaurant with any dietary requirements prior to completing dining reservations.
Dooley Noted 5 Great Tips to Making a Golf Trip Special:
One of the significant points to note is to take as much the stress out of dealing services. By booking and requesting as may service in advance of the trip and record booking confirmation. Please don't leave a booking confirmation to sit in your email account; please record each booking with a confirmation number on the itinerary. Also, sometimes grand plans don't quite work out due to rain! Wind and rain will slow up any golf day, additionally playing lousy golf in the rain is a fun killer. However, we must carry on playing golf regardless of the situation…
If you need any further advice to make a great golf trip even better? Contact us today, and we can arrange your next golf trip to Ireland without any stress.
5 Great Tips to Making a Golf Trip Special
Web: www.conciergegolfireland.com  | email: info@conciergegolfireland.com Tel: +353212427913