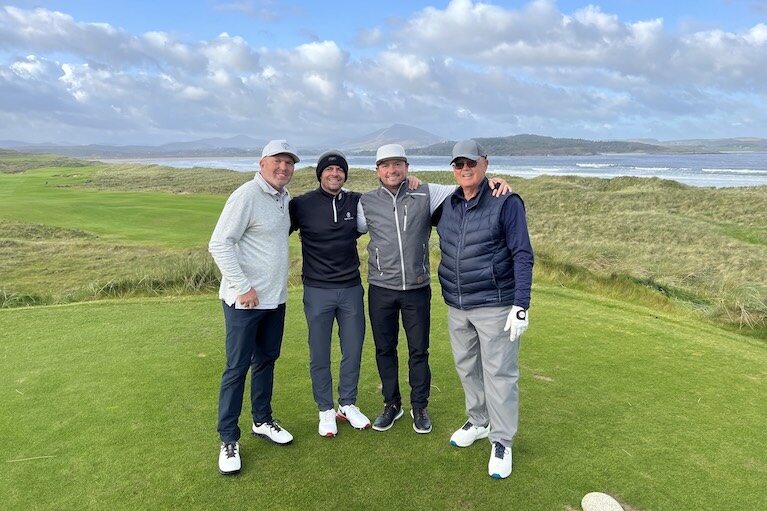 When is the Best time of year to play golf in Ireland?
The Question, "for an Irish golf vacation, when is it the best time of the year to come to Ireland to play golf"? When is the best time of year to go to Ireland to avoid blowing gales force winds, hail and heavy rain? Well, would you agree that the rain and wind are all part of the Irish true Golf Links experience? Just as John Ruskin said, "There is no such thing as bad weather, only different kinds of good weather".
The Best time of year to play golf in Ireland is.
Mostly, I would have to say that June is probably the best time of year to go to Ireland. Indeed, the days are long where golfers can play golf from 5 am to 10.30 pm due to Ireland's geographical position during the month of June. Also, June is the month where golf courses are in peak condition, meaning the greens and fairways should be in great shape. However, July and August are equally excellent months to play golf in Ireland with temperature ranging from the high 50s to mid-70s Fahrenheit. 
There is no secret to picking the right weather month to come to Ireland and play! Historically, July 2013 was the hottest month ever recorded with the average temperatures recorded above 71.7 degrees Fahrenheit. Also in 2018, the Irish countryside experienced a completely dry period from May until July and hot temperatures and no rain! Indeed, the Irish weather is a funny thing!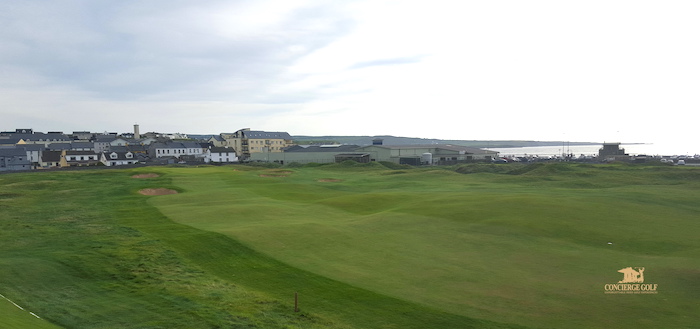 Rain in Ireland: 
Ireland has four seasons, Winter, Spring, Summer and Autumn. Notably, from Irish records, the winter months of December and January are the wettest months of the year. Where the month of April is typically the dryest month of the year.  
Golf Weather in Ireland in October
Indeed, don't leave home without the golf rainwear, wool hats and the warms gloves. However, golfing weather in Ireland in October is changeable and the weather is pleasant with nice days.  However as the daylight begins to fade earlier, the temperatures can be a little colder than September. Therefore, ensure to book tee times before 13.30 pm and golfers will have plenty of light to complete the game. Finally, don't forget a warm hat!
Also, it's likely that the south of Ireland will enjoy better weather than the West and North of Ireland. Indeed the first three weeks in October are typically not too bad, but the last week of October and starting into November can be wet!  
Golfing Weather in Ireland in April
Yes during the golfing month of April, golfers can be lucky and avoid the colder, wetter playing conditions. That said, April's weather can be the most beautiful month of the year! Indeed, April 2011 was one of the most beautiful Irish months to chase the golf ball.
Furthermore, golf courses in April are typically not that busy. Additionally, some of the top golf courses may not be open to play until the last couple of weeks in April.  Sadly, but necessary, April it's a good month for superintendents to be preparing the course for the summer ahead. Where the golf course presentations will not be at their best. 
When are the Golf Greens in Irelande at their best?
Indeed, watch out for the end of April and mid-August as some golf courses may punch their greens. Therefore, the greens will not be as smooth and playable. Indeed, the greens are likely to be at their best for the months of May, June, July, August and September. Golfers could be lucky with good weather during October when the greens are rolling very true.
Finally, the months to avoid playing golf in Ireland are from mid-November, December, January and February. Indeed, there are nice days to play golf during November and March, but few! Notably, the 17th of March, St Patrick's Day would be beautiful to start off a spring Irish Golf Vacation. Because the March weather is so changeable, March is certainly not the best time of year to play golf in Ireland.
10 Best Irish Golf Courses to Play in October: 
Portmarnock Golf Club 
Ballyliffin Golf Club (Glashedy Course)  
St Patricks Rosapeanna 
Co. Louth Golf Club 
Old Head Golf Links
Waterville Golf Links 
Co Sligo Golf Club 
Enniscrone Golf Club 
Carne Golf Links
The Island Golf Club 
The notable golf courses such as Ballybunion Golf Club, Tralee Golf Links, etc close to non-members in early October. Contact us to book a golf trip for October.  
What is the Time Zone in Irelande? 
Indeed, Ireland is the very same as London, Greenwich Mean Time which is five hours ahead of Eastern Time USA and eight hours ahead of Pacific Time USA. 
CGI's 10 Golf things to pack for an Irish Golf Vacation!
Notwithstanding, a warm warning! Golfers never travel without a complete set of rainwear. That is a rain suit, a warm hat, rain gloves and a decent wind umbrella.
A gustbuster type or a wind umbrella is good to have on the bag.
Don't forget your medications, painkillers & etc. Please bring extra supplies, as you may not find the same medications in Ireland. Also, just in case bring a copy of the doctor's prescription note in case you need a trip to the pharmacy.
If you can only play with the aid of a golf cart? Please ensure to ask your doctor for a note on his headed notepaper stating that you need a golf cart to play golf. Some golf courses will require you to produce a medical cert only for golf carts policy. Please note both Lahinch G.C and Ballybunion G.C do not have golf carts and notably both are walking-only. Whereas, Trump Doonbeg will hire golf carts once a medical certificate is sent to reservations before your date of play.
Notably,  be sure to pack a photocopy of your driver's license and passport in case that you lose either. Also, save a copy of both to your cloud file or database. Such as Dropbox, iCloud, Google Drive or OneDrive.
Always, pack extra socks, a couple of pairs of shorts, khaki & black pants are good colours to hide the coffee and beer stains! As both colours will match with almost any odd clean shirt, you may have in your bag; This may be a lifesaver towards the end of your trip!
A good tip is to purchase golf balls from your local golf retail store and save a few euros for pints!
Travellers don't pack too much into your case as you might need extra room for all the extra shirts and sweaters that you might buy along the way. However, we suggest taking the average temperature from your forecasted information and packing your bag accordingly to suit the climate conditions.
Also, golfers can view the weather forecast a week or so before their travel dates. Notably, use apps such as wunderground.com or find the latest weather app that works for you. 
Indeed, how should golfers prepare for the strange body effects of STOUT? Such as, how will your body react after drinking one too many pints of Irish Stout. Essentially, the solution is to drink less and avoid the prep!
The Final word on Weather on a Golf Vacation Ireland:
Indeed, a time to play golf in Ireland. Notably, CGI will only offer the best recommendations for any Irish Golf-Travel service. Please ask us what are the best golf courses to play, where the best restaurants and fun pubs are located? Additionally, we provide the services to plan and arrange the extra fun stuff to do during an Irish Golf vacation. Also, click here to read more about what clothes to pack on a golf trip to Ireland or Scotland. 
Finally, complete the following form to join our email list about golf travel to Ireland and Scotland!
Contact Details:
Post created by John Dooley PGA Golf Professional & Golf-Travel Expert. Concierge Golf Ireland | Email: [email protected]  | Tel: +353212427913
Feel free to read more about Irish Golf operators: Click Here to view.