YES! what to Pack on a golf trip to Ireland or Scotland ??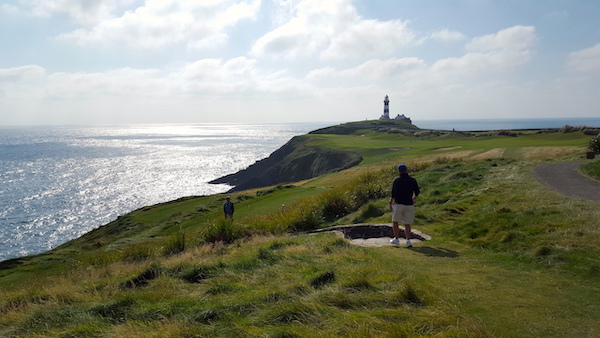 Packing a bag for a golf trip can be made very easy or very hard! The following article suggests a range of items to pack that will cater to almost all golfer's travel needs. Particularly, a list of items to pack to fit into a carry-on and what type of golf travel bag for the hold.
Indeed,  the seasoned golf travellers are quite comfortable taking a soft carry-on bag and a soft golf travel bag. Within their carry-on bag is just about the right amount of clothes for the number of days playing golf.
Which one, the golf travel bag, hard case or the soft case? 
Notably, one of the main advantages of using a softcover travel bag is that the soft bags are easier to pack into the rental car or bus while compared to the hard plastic travel cases. If you are traveling with a soft case, please add the strong arm into the travel bag to absorb any potential damages. The only major problem with too many hard cases is that they are difficult to store.
However, the hard case travel bags will protect your clubs as you don't want to have the same problem as this traveler did. Please click on my poor clubs to view this disaster to the golf travel bag.
What to pack in your Golf Bag?
The following is a simple list of essential items to pack in your golf bag. You don't need to pack everything!
Of course, pack all your golf clubs and all 14 would be great. But, if you don't use a 3 or 4 iron, leave those clubs at home.
Rain Suit (jacket and pants).
Golf Balls 2dz (at least).
A couple of packs of tees, a couple of pitch repairs, and coins will do for ball markers. 
For any time of the year in Ireland or Scotland pack rain gloves and a warm hat.
Lip balm, sunscreen, aftersun and aloe vera gelly for all the windburn and sunburn.
Change to a lightweight golf bag as you never know when you might have to carry your own bag.
Range finder, everyone needs to how far you need to play.
Finally, lighten your bag for the caddy's sake by taking all the bag tags off your bag and leaving all your non-essential items at home!
Light packing into the in-flight carry-on bag:
Mostly, I  am suggesting packing at least two pairs of dark polyester microfiber pants and wearing the third on the plane. Black is a good colour to hide coffee stains, chocolate, and you can always buy a pack of baby wipes to clean off those stains! One or two golf shirts and wear another on the plane. I'd suggest buying one or two more shirts along the way from your favourite golf courses. Certainly, wear the sweater on board. For adverse weather, do pack one pair of under-armour long pants and an under-armour shirt. Also, don't forget a pair of black shorts. All of this can be worn underneath rainwear and this is most helpful for rotten weather conditions.
Add in some casual wear, a couple of tee shirts, a pair of jeans, and one or two dress shirts for nights out. As golfers get older, pack a few cotton handkerchiefs. The hankie is very useful for nose-wiping during wet, cold, windy, or allergen-dense rounds. Add in four or five pairs of socks and undies for four days. Please do use the hotel laundry service or your playing partners might not like playing with you at the end of the week! Washbag; toothpaste and toothbrush and pack your dental floss. Namely, razor blades, eye drops and don't forget your medications — additional band-aids and tape for blisters. Please do avoid packing any liquids or gels bigger than 100mls into your hand luggage as airport security will take any liquids or gels more than 100mls from you as you pass through airport security.
Packing Tips!
I have found that using zip-bag clothing organisers and packing your clothes into those bags is easy to do. It is so easy to organise clothes in your suitcase as the zip-bags are a good size for packing golf shirts and formal shirts. Therefore, it's easy to pack the zip bags into your main travel bag. Finally, the bags are simple to organise and easy to put into your golf travel bag for overflow clothing. Pack golf trip Ireland Scotland.
Especially pack two pairs of waterproof golf shoes, one rain suit, one or two golf gloves and only one pair of rain gloves are needed. Pack a rain hat, a bucket hat for the sun and a trusty baseball cap. Indeed, do add sunblock for your nose, face and any exposed skin to avoid windburn. Ah yes, add Aloe Vera Gelly from Forever Living to help your skin recover after a day in the sun.
You don't need to pack for every occasion. Keep the bag light, and before you pack think "do I need to take this?" Do clean out your golf bag before you pack. Chiefly, you might find a lot of stuff you don't need to pack. Such as; too many golf tees, divot tools, extra balls, extra bag tags hanging from the golf bag, etc. Pack Golf Trip Ireland Scotland.
Don't forget extra golf balls and it's cheaper to buy from your local Golf Pro! Finally, buy a Swiss-army knife and pack it in your golf bag – there are a million things you can use it for. Also, if your tour operator is any good, that company will supply you with a dozen golf balls.
MORE information!
Hiring a caddy will help maximize your golfing experiences and that is a fact. But, if you prefer not to hire a caddy, then each course will have plenty of pull carts readily available to rent. Let's call the pull cart an Irish chariot for your golf clubs! But, the golf club carry bags just do not fit well on pull carts and I would recommend buying a bungee cord.
The cord is so very handy for strapping your golf bag onto a pushcart keeping your golf bag from falling off the cart at the wrong time. Bottles of water and other fun liquids may enhance performance and they can be bought in local food and drinks stores. I find that some golfers need a good stock of high-performance beer drinks during the travel time between courses and hotels. The names of the local stores to find such high-performance beer drinks are Tesco, SuperValu, Centra, to name a few.
Certainly travelling from North America, you will need a type plug adapter for the UK and Ireland. Households run on 230 volts, and it's likely that all your electronics will run on that with just the plug adapter. The good news is there is no need for a voltage converter. Please don't forget your phone charger and a mini-power strip. There are never enough empty plugs for all your stuff to run!
Dublin Fun Tip!
Why not spend a night or two in the temple bar area, Dublin? If you take on the challenge, then sleeping in Temple Bar will require earplugs for the light sleepers, because the music can be loud enough to shake the hotel's foundations. In addition to listening to a roommate snoring!
Après Golf at the 19th hole:
Notably, wearing Jeans and tee shirts are fine to wear out and about. Additional Jackets, shirts, and ties are typically not required unless you have pending engagements that require formal dress. Notably, tipping in Irish and Scottish bars is not common practice; however, do watch out for mandatory service charges for large groups for dinner.
However! Do say hello to local people and enjoy the craic! Era for the fun, do try speaking to the local crew in an Irish or Scottish accent and you should get a fun response! Moreover, do ask shop vendors for their best price, and you might find an unexpected deal.

Medicals / Medicines: If you are playing a lot of golf, your body may need some extra help to remain injury-free and pain-free. Don't forget your medications to help your body make it through those extra rounds of golf! Also, ask your doctor for copies of your prescriptions in case you need medicines in a hurry.
No Paper Needed: Cloud sharing files are fantastic for storing group information. Create a group file to store all the pictures taken and the vital booking confirmations. Also, there are all sorts of apps that you can use to track all the spending in case you all need to divide up any shared bills.
What about Cash? Northern Ireland, Scotland, and England all use only pounds sterling. Whereas for Ireland, please use Euro. May I suggest visiting your local bank and taking out the currency amount that you need for caddies, etc. Also, there are bank machines in every town waiting to give you cash!
Power converters: Visit Costco, as I am sure they have a deal on plug adaptors for the UK and Ireland. Also, do bring a socket set for all your electronics, as it's likely the hotel room will not have enough plug outlets.
Yes, a cell phone charger that plugs into a car lighter would be helpful too. Also, most travel buses will have USB plugins for phones.
THE 7-DAY PACKING LIST FOR A GOLF TOUR TO IRELAND OR SCOTLAND
            2 x Microfibre pants plus a pair of pants for the plane ride and they must be a black colour to hide the coffee stains!
            4 x Microfibre shirts; however, this type of shirt tends to smell more than cotton shirts and is easy to pack.
            6 x socks & undies
            2 x argyle sweater (why not!!) or zip neck sweaters
            2 x pairs of golf shoes
            1 x Gortex rain pants & rain jacket
            2 x pairs of golf shorts (wear the shorts under the rain pants on humid days)
            1 x Under Armour cold gear leggings and a mock shirt
            1 x rain gloves
            2 x zip plastic sealing bags to project wallet and electronics
            2 x normal golf gloves
            The number of balls you should pack will depend on how you play golf
            1 x pack of playing cards and chips!
            1 x rosary beads and pray for no rain or hail!
            Think of 1 x jeans & a few tee shirts for the 19th hole
            Indeed, don't forget 1 x Jacket, Shirt & Tie if you are playing golf at Muirfield.
            1 x belt or pants straps.
            Take extra meds and all your wash bag stuff that can be packed either in your carry-on or golf travel bag.
            Sunblock for sun and windburn or any burning.
            More and More golf, please!
Contact Us to Book a wonderful golf experience in Ireland or Scotland
Indeed, contact us at our office +353 21 2427913 and Email: [email protected] 
Click on the gold link to read about the best time of the year to play golf in Ireland. Playing Golf in the Rain!
Pack golf trip Ireland Scotland | Ireland Golf | Golf Ireland and we love golf everywhere!