Essentially, three of the best golf courses to play in Cork, Ireland. Old Head Golf Links, Cork Golf Club and Fota Island Golf Resort. Indeed, County Cork is missing a true links course and the nearest golf links courses to Cork City are Dooks, Ballybunion and Tralee Golf Courses. However, playing Cork, Old Head and Fota are enjoyable golf courses to play.
For a number of reasons, the Cork courses play softer than the brutal links courses.  Yes, it's likely to find the golf ball from wayward shots. Notably, golfers are likely to post better scores and feel good about playing golf. Finally, the turf is not as firm as the links and should be easier to chip around the greens. 
Indeed, Old Head is one of the most spectacular golf courses to play in the world. Cork Golf Club is Alistar MacKenzie designed golf course that requires a lot of good shots to score well. Whereas Fota Island is a parkland course plays longer than both courses and tighter off the tee in places. Equally an excellent challenge awaits.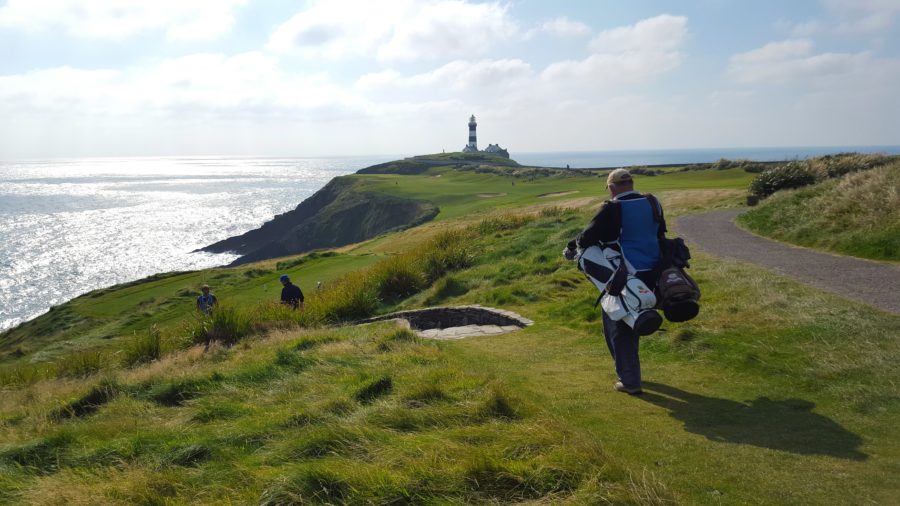 The Old Head Golf Links is built on a land head that shares the most beautiful setting of any course in the world. Old Head is a course that golfers should never pass up a chance to play. 18 holes Par 72 for both ladies and gents where the course ranges from 5413 to 7137 in yards depending on the course length selected to play
Cork Golf Club
Alister Mackenzie redesign Cork Golf Club in 1921. Cork is a traditional 18 holes of Irish Golf played on an old limestone quarry! Typically, Par 72 for the gents and par 74 for the ladies. Cork Golf Club is an excellent challenge awaiting golfers to be enjoyed. The course plays from 5672 to 6813 yards depending on the tee boxes golfers play from.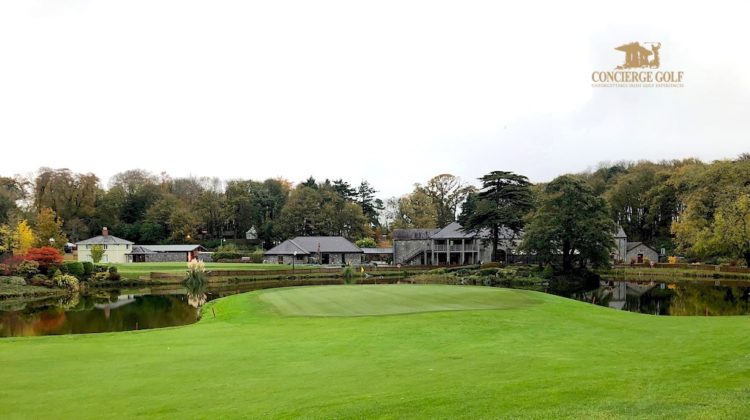 Fota Island Golf Resort
Fota Island Golf Resort hosted the European Tour's Irish Open in 2001, 2002 & 2014. The resort has 27 holes to play, an excellent golf academy, a nice club house and a beautiful hotel on site. The Resort set up well for a golf and wellness experiences. The courses vary in length and each course is an excellent challenge regardless of the course played.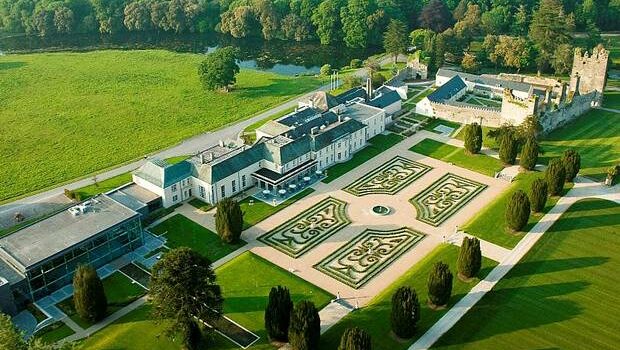 Castlemartyr Golf Resort
Castlemartyr Golf Resort was designed Ron Kirby, 18 holes playing approx. 6728 yards from the tips. The course is located in East Cork in the town of Castlemartyr on the grounds of an Old Manor Estate and less than a 35 minute car trip from Cork City. Yes indeed, Castlemartyr is a challenging test of golf to play and a good course to add for a golf break to Cork.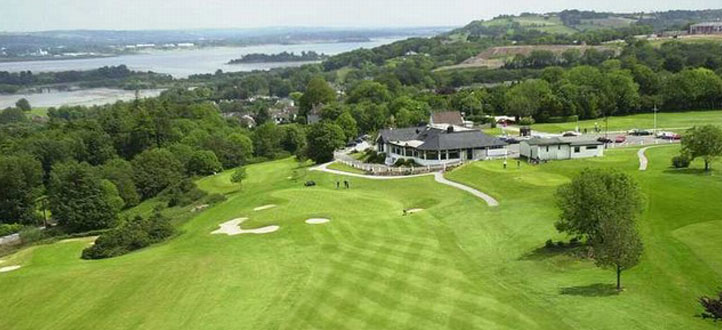 Douglas Golf Club, Cork
Douglas Golf Club was built back in 1909 by the golfing legend Harry Vardon. Also, Alister MacKenize extend the course in 1924. The club's traditions in producing a number of top amature golfers. Indeed, playing at Douglas will test every part of a golfers game and another course in Cork not to be missed!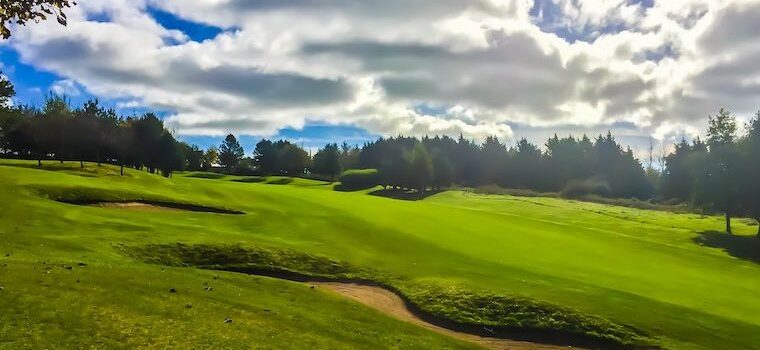 Lee Valley Golf Course, Cork
Lee Valley Golf Club built by Christy O'Connor Jnr, a beautiful 18 hole parkland course on outskirts of Cork City. Lee Valley measure 6725 yards and golfers need to play all their best shots to play to par. Notably, Shane Lowry won the Senior Scratch Cup in 2009 posting a total of 214 strokes over 54 holes.
More Golf Courses to play in Cork, Ireland.
Cork City and the surrounding county is packed with fun golf courses to play and for golfers to enjoy a unique golfing experience.
East Cork Golf Club
Blarney Golf Resort
Cobh Golf Club
Fermoy Golf Club 
Monkstown Golf Club
Macroom Golf Club
Mitchelstown Golf Club
Mahon Golf Club
Muskerry Golf Club
Things to Do in
Cork
Ireland
Indeed, there is more to discover in Cork than just golf! Cork has several excellent restaurants to visit in Cork City, County Cork and in the fishing village of Kinsale. Such as Fishy Fish, Greens Restaurant, and Market Lane.
Not alone are the fun places to see in Cork, such as the Cork Gaol, visit Cobh Harbor, enjoy the Titanic Tour, a walking tour and a Spike Island Tour. Spike Island is the most interesting historical tour and recommended by Concierge Golf Golf.  
Also, visit Blarney Castle, and I dare you to kiss the famous Blarney Stone. Indeed, enjoy a tour of Spike Island, which is one of the best historical tours in Cork. Notably, there is the Jameson experience for those that enjoy a drop of whiskey! Another article that can be of interested in golf tour operators, please on the best golf tour operators link to read more.
Summary of a Golf Trip to Cork
Mostly, the best golf trip to Cork is a mix of golfing and things to do. Mainly, arrive play golf at Fota Island, followed by Cork Golf Club and Old Head on the last day. Or a mix of the 3 courses depending on tee time availability. 
Indeed, I would suggest staying in Cork City as Cork is central to all three golf courses. Moreso than staying in Kinsale as that location can add 40 minutes to driving time to Cork and Fota Island golf courses. Also, I would suggest using private transport than a hire car as there is not one worry about parking or enjoying a pint after the round. 
Notably, Cork City has plenty of food and pub options for all the age groups to enjoy. Such as dining at Greens and enjoy a few pints and music at the Crane Lane. Certainly, Concierge Golf will arrange all the fun things to do and manage those dining reservations so you can sit back and enjoy playing golf. 
Finally, there is always a few things to do and see. Should you like the historical Cork, I would suggest the Spike Island tour and a walking tour around Cobh town. Notably, people can take the train from Cork City to Cobh. The train station is attached to Cobh heritage centre, and the pier for the boat trip to Spike Island is a 400-yard walk from the train station.  
Please feel free to click on the below link for more information about booking golfing and touring experiences to Cork, Ireland. Golfers can easily enjoy golf courses in Cork, Ireland.