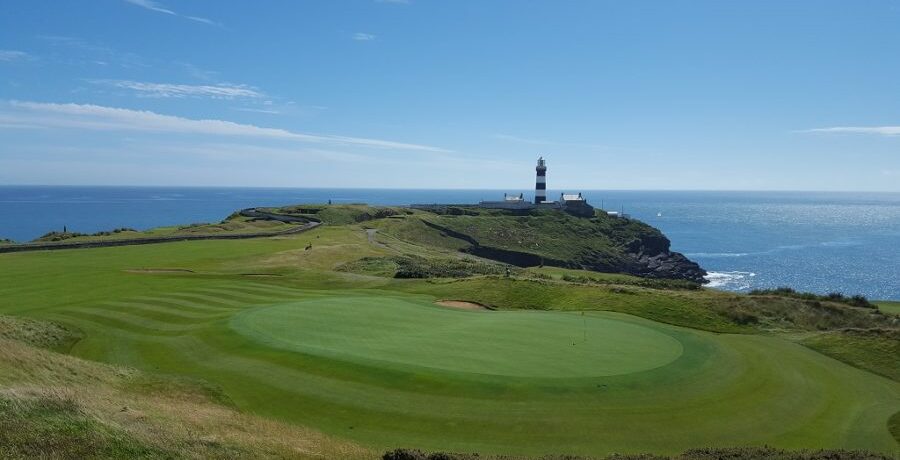 Old Head Golf Links was built on a 220-acre land head, pointing out over two miles into the Atlantic Ocean. The promontory is almost an island with numerous caves running beneath your feet as you play the course. Indeed, the course and practice ground occupy 180 acres and the remaining 40 acres of unspoiled cliffs edges the course.
Notably, Old Head was designed was influenced and constructed by a number of people:
Mr Ron Kirby – former designer at Jack Nicklaus's Golf Design Services.
Dr Paddy Merrigan. The Late Mr Merrigan was an Australian Agronomist and a Golf Course Architect.
Notable one if Ireland best Senor Golf Tour Professional Mr Liam Higgins.
The Golf Course Designer and late Eddie Hackett and the late Dr. Joe Carr, one of Ireland's most successful international amateur golfer.
The Course was built by contractor Mr Haulie O'Shea.
Also, the late John O'Connor continuously adjusted holes slightly every year making course improvement. Certainly, this practice is continued by Old Head's management team.
Indeed, Old Head Golf prides itself in offering the ultimate golfing experience with a touch magical of Irish hospitality. Essentially, the most stunning views of the Atlantic Ocean and Lighthouse from the Clubhouse. The clubhouse provides the Lusitania Bar with a 5-star de Courcey Restaurant for casual, formal or private dining.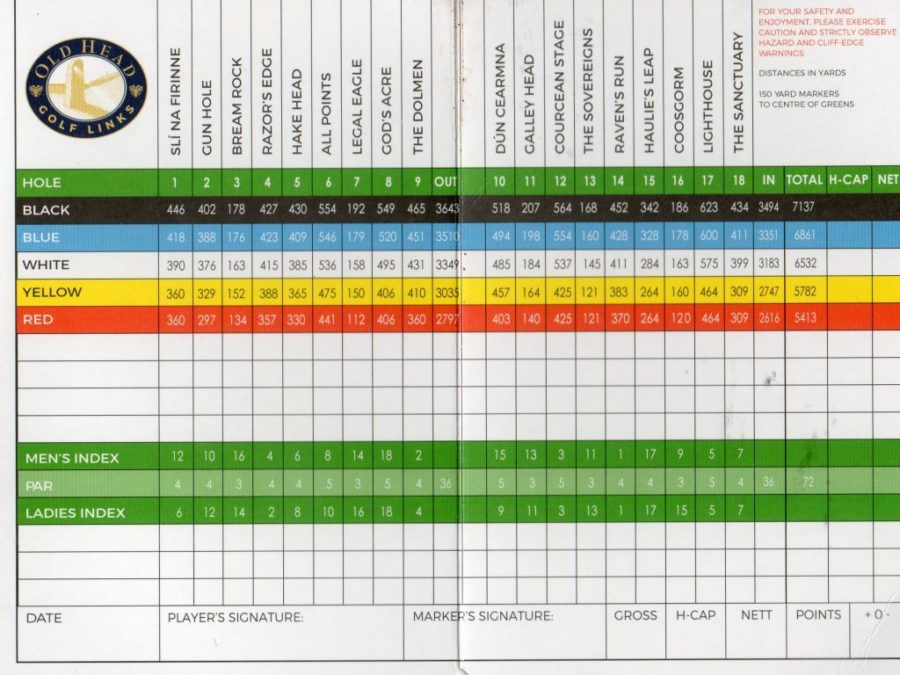 The course is par 72, comprises five Par 5s, five Par 3s and eight Par 4s. Old Head on the ground plays 7137 yards from the Black Tee and 5,782 from the forward tee. Indeed, the yardage range from the various tee boxes offers a course length to suit every golfer. Playing Nine holes along close to the edges, all eighteen holes provides stunning ocean views everywhere you look from the course.
Primarily, Old Head Golf Links is as a walking course where all golfers may walk and play with the advice of a Caddie.  Old Head's Caddie Programme is one of the best in Ireland. Also, if you have walking problems? You may also book golf carts and I would suggest booking prior to arrival.
The course is set up daily to help golfers deal with the varied weather conditions. For the 2019 golfing season, the practice ground has been adjusted so more golfers can enjoy warming up range with complimentary golf balls. Then a few chips and putts on the short game practice area before the 1st tee. Should you require any extra service, Old Head has a team of excellent services staff to take good care of each visiting golfer.
Dooley Noted On Old Head Golf
Finally, once played, is it fair to say that Old Head Golf is the top Irish golfing experience? However, golfers must sample the experience and play the Old Head. Indeed, we say that Old Head Golf is one of the best Irish Golfing, Food and Accommodation, Experiences. Also, you might find our CGI article about golfing in the Southwest of Ireland of interest. Click here to read on.
Please feel free to contact us should you have any questions or read more on 11 excellent golf courses to play in the south west of Ireland. 
Also, click here to view information about Cork Golf Vacations. 
Indeed, click here to view the lastest booking and pricing information for Old Head Golf Links
Email: [email protected]| Contact Us: Click | Tel: +353212427913