Adare Manor Resort 2024
The Ryder Cup will be held at Adare Manor Hotel & Golf Resort in Adare County Limerick in 2027. Adare Manor in Ireland is a spectacular luxurious resort that has something for everyone. Whether you're an experienced golfer or in need of a luxury break. Adare is a true golfers' paradise.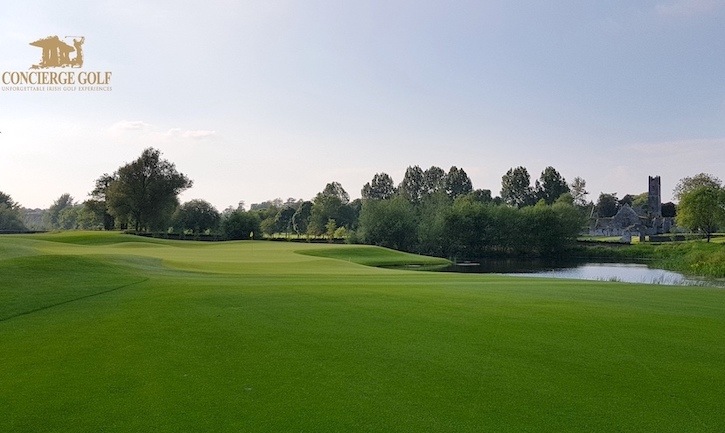 Before you Tee Off
Golfers should arrive at least 1 hour before your tee time to allow time to prepare for your round. As you can enjoy warming up by hitting balls on the range, practising putting on superb greens and hitting a few bunker shots.
That said, If you don't have your own golf clubs or other equipment, you can always rent clubs at the Adare Manor Hotel & Golf Resort Pro shop.
Note that if you wish to play weekend golf at Adare, Concierge Golf Ireland can book you a two-night stay at Adare Manor Hotel & Golf Resort – currently, this is a requirement. For the duration of your round, you'll have the caddie at your side, which is a course requirement. Noting the water hazards, judging distances and reading greens are all part of the caddie e at Adare Manor Hotel & Golf Resort.
About the Course
The Tom Fazio-designed golf course at Adare Manor provides an unforgettable experience for players of all skill levels. Designed in 1995 by renowned golf architect Robert Trent Jones Senior, the course underwent a redevelopment project in 2016-2017, guided by renowned American golf course architect Tom Fazio.
The championship par 72 layout includes 18 holes of breathtaking golf, each with its unique challenge. The opening par 4 on the front nine requires a tee shot over a meandering stream, while the par 3 sixth hole has a pond in the middle of the rear of the green.
The back nine features a spectacular par 3 over water along with a par 5 with a narrow fairway. The par-3 16th hole is memorable because it requires a shot over a meandering river to a multi-tiered green. Adare Manor's course is a great test of golf for players of all levels, with undulating fairways, strategic bunkers, and a mix of short and long holes. Adare is simply awesome!
The 19th Hole
After your round, you can unwind and enjoy the Adare Manor Hotel & Golf Resort's post-round amenities. Enjoy a few drinks at the bar. OR Why not go all in and book a day at the Le Mer Spa?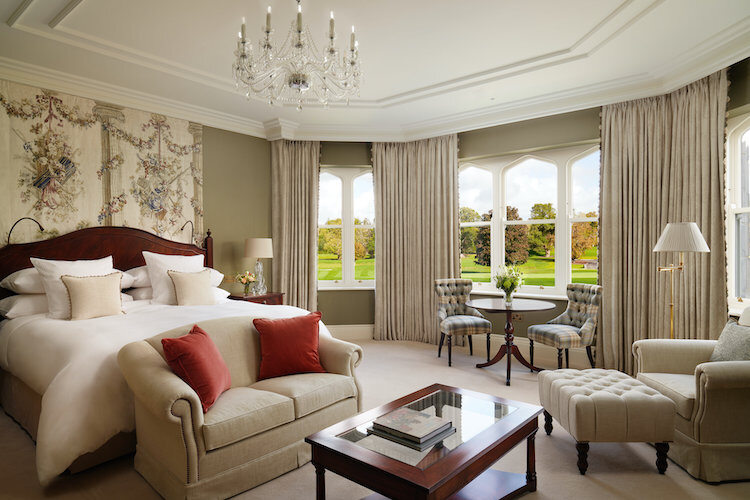 Whereas, Adare is a complete 5* star luxury resort. The impeccable rooms are air-conditioned, lavish, and have marble bathrooms (really nice!). Notably, patrons may add activities on the 840-acre estate. Such as enjoying falconry, fishing, archery, shooting and horseback riding. Finally, fine dining is at the heart of the resort's many restaurants, and you might pick everything on the menu!
Dooley Noted
Currently, patrons are required to book a two-night stay at Adare Manor Hotel & Golf Resort for weekend golf.
Nooo, buts!!!! Adare Manor Hotel & Golf Resort is an excellent choice to enjoy golf and a wonderful 5* Resort in Ireland. Booking with Concierge Golf Ireland will make your life simple, allowing you to make the most of your golfing and resort experience. Don't miss out, book in, reserve your tee time today and prepare to tee off at Adare Manor in Ireland.
Notably, read a post about Rosapenna click here