About us | Concierge Golf Ireland
Whether you're a single golfer, a couple, a group of friends, a family or a group of golfers. Concierge Golf Ireland (CGI) offers the very best standards of customer services for all your golf travel needs. Indeed, Concierge Golf Ireland is operated by the famous PGA Golf Professional John Dooley. Notably, John and his team will deliver on a dream Ireland Golf Vacation.
Consequently, CGI's sole focus is creating fantastic golfing experiences and adding fun life long memories from customised golf vacations to Ireland, Scotland, England and Portugal.
CGI was formed in 2012 with one main goal. To be the best Irish Golf Tour operator providing the best customer services for golfers travelling to Ireland. As our services and customer insight are evolving, we understand our customer's needs outside of the normal tee times, hotel and transport bookings. 
Therefore, it is critical to the customer's experience to identify what are the customer services required.  For that reason, we manage each booking to take the customer's stress out of dealing with people that speak the same language but operates completely differently. Indeed, everyone, speaks English, however, sometimes people ask for apples and receives oranges! 
Benefits of working with Concierge Golf
Yes, there are a number of excellent benefits to working with Concierge Golf Ireland (CGI). Firstly, we are relentless at delivering an excellent golf vacation experience. Secondly, for Concierge Golf to be a standout business amongst a wide range of golf operators is difficult to do. We believe that our attention to customer detail and been customer-first focused is essentially the key to providing the best possible golf vacation experience.
Notably, what our clients say that sets CGI apart from the rest is that Concierge Golf is focused on the golfer's needs and wants. Our clients prefer how we identify the various services that suit their requirements for a great golfing experience.  
Essentially, our service partners such as transport, hotels and restaurants suggestions are selected based on their shared high standards of customer service. Indeed, our choice service partners will do their very best to ensure that CGI's clients are at the forefront of the service they provide. Ensuring everyone's needs are met and, attention is catered for the duration of their Irish Golfing Tour. 
CGI is located in County Cork, Ireland, ensuring that we provide our customer services in the same time zone during their golfing vacation to Ireland, Scotland, or England. Also, CGI will be with our clients daily or in the background providing instant customer support.
Essentially, we book all the components a Golf Ireland vacation. Such as the golfer's tee times, hotel rooms, types of transport, dining, things to do and to see. The booking process is critically managed in so far as that all the various deposits and full payments are correctly applied when payments fall due. Notably, each part of the golf trip is tripled checked, ensuring all the booking information is accurate and no problems.   
Additionally,  we ensure that not one piece of information is misrepresented or misunderstood. Whereas, CGI deals with the various terms and conditions with all the various clubs, hotels, and all service providers. Additionally, all the important information is listed on the customer's itinerary and their itinerary would list all the various important booking references for Golf courses, hotels, transport, things to do, where to dine and etc. 
Therefore, sit back, relax, work on your golf game, enjoy golfing and touring Ireland, Scotland or England.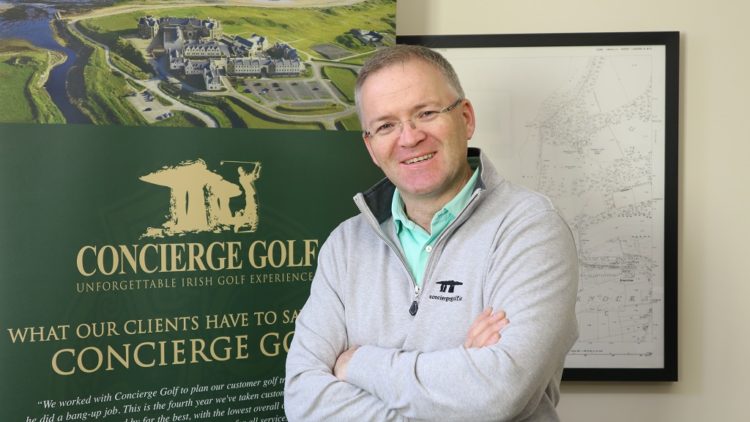 Our range of client services extends to golfers that require a high service standard and immediate response time. CGI's service is best suited for Golf travellers that deal with professional services and efficient operating companies. Therefore, we only provide the best Golf Vacation experiences that golfers will enjoy anywhere in Ireland, England, and Scotland. Golf, Golf and Golf with Concierge Golf-Ireland!
Also, click on this link to read more about the best Irish Golf Tour Operators.
environmental commitments :
Our environment is really important to us all and keeping the environment sustainable is really important to everyone.   
The carbon footprint for golfers travelling to and Ireland can be quite significant depending on a wide range of factors, but all carbon factors are related to travel. Mainly, when calculating the various carbon emissions from air travel, ground transport, hotels, food consumption, golf courses and others.
Notably, Concierge Golf will donate €52.89 for every CGI's golfer from 2020 onwards. Also, please note that the cost is not added on to a golfer's package. The donated amount is from the company's operational revenues. Whereas, Concierge Golf's main Environmental goal is committing to growing an Irish forest over the next 15 years. 
Also, please click to read more on CGI's Environmental Commitments.