A Greener Ireland by Concierge Golf Ireland (CGI)
Notably, making golf green and golf travel green is important. Essentially reducing our impact on the environment is a challenge that we all face. Currently, Concierge Golf working on a Greener Ireland is the theme of how CGI can reduce our golfing carbon footprint. Indeed, there is empirical evidence that our cars and aircraft generate emissions that are harmful to the environment. Until such time as travelling becomes greener and less impactful on the environment, Concierge Golf will do what we can to help the greener golfing environment. Certainly, now is time to make a change and stop waiting for someone to come up with a green solution. 
Since the Covid19 virus first took off in January 2020 and resulting in the halting of transport systems around the world. Interestingly, the NASA Earth Observatory has posted a video comparing the before and after time periods of China, Italy, and Europe. The brief video clip shows a massive drop in the pollutant nitrogen dioxide (NO2). NASA noted that NO2 is a harmful substance emitted by vehicles, power plants and other machines that generate emissions.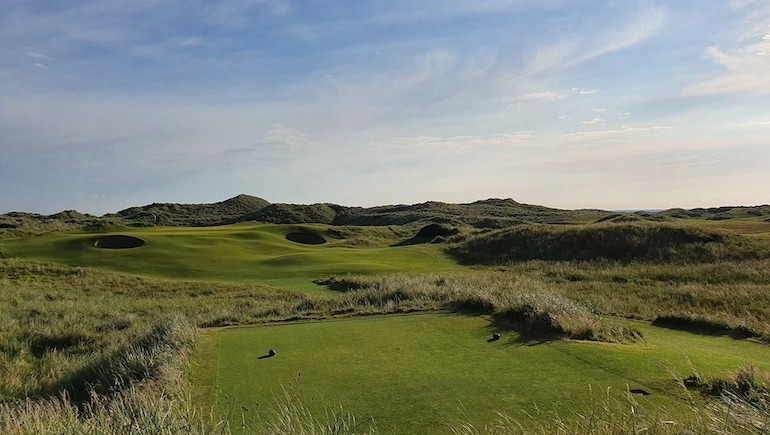 So we all have a carbon footprint! 
Our carbon foot print

the amount of carbon dioxide or other carbon compounds emitted into the atmosphere by the activities of an individual, company, country, etc (dictionary.com)
After researching how to calculate a carbon footprint. The calculation process is not easy and quite complicated. Mainly, because there are so many variables required to accurately record and measure a golf tourist's carbon footprint. The main complications are the different types of carbon footprints, how to collect data, establish a cost to the environment per ton of carbon emissions and creditable results.  
The easy part was defining an average set of numbers from an Irish Golf Trip. Therefore, the averages used were from a sample size of 500 Concierge Golf Irish Golf Trips completed in recent years. Essentially, the flight data is from 100 golfers flown in a 777 aircraft economy from Atlanta, California, Chicago, Dallas and JFK. Also, with an average of 5 nights, 5 rounds of golf and food consumption over the 5 days. The averages were further segmented into groups of 8 golfers in luxury bus and 4 golfers for in self-drive car rentals. Then after the hours spent working on this project, I came up with an average carbon footprint cost of €52.89 per golfer based on CGI's data and I am sure that amount is different from other Golf Tour operators.   
Concierge Golf Ireland's Environmental Goal
Our goal is to help create a forest in Ireland by offsetting carbon costs from every golfer that travels with CGI from 2020. The cost is not added to golfer's packages, it is the contribution from the savings made to reducing and offsetting carbon emissions by Concierge Golf. 
CGI has decided that planting trees are the best option. Also, the types of trees are a mix of Irish common trees such as Downy Birch, Common Alder, Oak, Scots Pine, Hazel, Rowan, Crab Apple, Hawthorn and Blackthorn trees. The tree saplings will be purchased after the golfing season has ended in October and November. Finally, the trees will be planted the following spring. 
Our Golf Greener Ireland Practices 
We are committed to reducing and recycling all paper and plastic waste. 
Change from paper booklets to electronic booklets. 
Use recycled paper only and digital filing.
Recycled cups and paper straws only. 
Recycle waste where possible.
Change to using hybrids and electric-powered vehicles only (long term goal).  
Use rechargeable products. 
Make each Golf Trip to Ireland Greener.  
Contact us if you have any questions or comments about applying carbon offsets to your golf trip to Ireland with Concierge Golf Ireland. 
Email: [email protected] | Tel: +353 212 427 913