HELICOPTER GOLF in IRELAND
Golfing and travelling by Helicopter Golf Ireland is undoubtedly the fastest method of travelling from golf courses to the hotels. Since most of the top Irish links golf courses are located close together. Travelling by luxury car or bus to each golf course takes up a lot of time compared to Helicopter travel. We say "YOU should skip the car" and "spend less time travelling the wonderful Irish roadways and take the Helicopter!"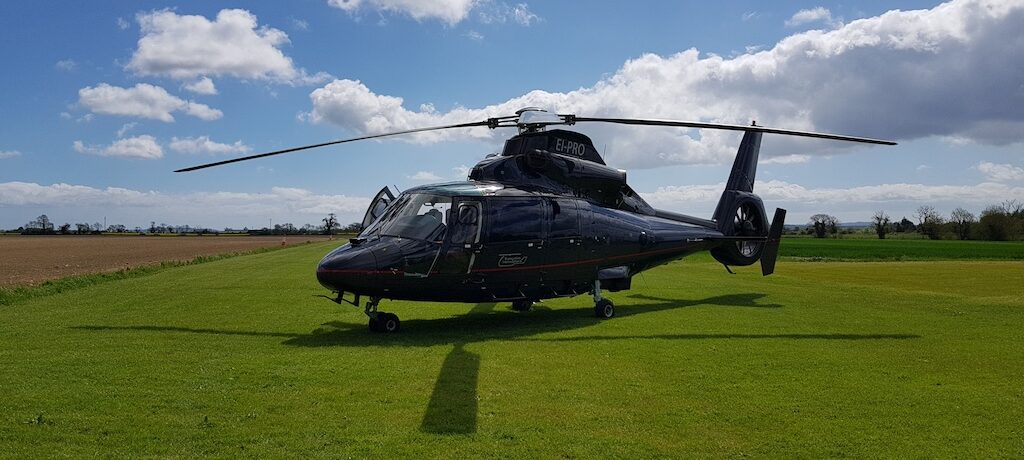 The beauty of golf touring by Helicopter is that it is Quick! The aircraft can land very close to the clubhouse and selected hotels. Therefore, golfers can enjoy quick access to hotels, golf courses and of course airports. Essentially, on arrival to Cork, Kerry, Dublin or Shannon Airports you can depart the plane on arrival, board the helicopter with your golf clubs and head off to play golf. In the meantime, your luggage is been transported to a hotel for your Irish Golf Helicopter trip.
Especially, travelling by helicopter to the best golf links courses in Ireland is genuinely fantastic. Each morning after breakfast, take a short walk to the helicopter, your golf clubs are placed in the back of the helicopter, climb on board, fasten your safety belt and take off. Notable, from selected hotels, the golf courses can be a short flight of 12-minutes or possibly as much as 1hr depending on the destinations. Finally, contact Concierge Golf and ask for the ultimate Irish Golf Helicopter Tour.
An Irish Golf Helicopter Itinerary: 
Specifically, an Irish Heli Golf itinerary is the ultimate trip for golfing groups and Concierge Golf typically working with golfing groups from 2 to 32 players. Additionally, a standard golf itinerary consists of tee times, hotels and transport. Critically, we provide a full list of the group's daily schedules, from sunrise to sunset. Including, anything from breakfast to helicopter times, dining times and everything else that is required. 
Also, due to the nature of the trip, it is essential that Concierge Golf is on-site to manage any last-minute changes to the itinerary. Furthermore, Concierge Golf provides a highly responsive customer service to manage Irish helicopter Golf vacations. Indeed, CLICK here to view an itinerary for an Irish Helicopter Golf Trip.
Booking Helicopter Golf Ireland Trips
Booking a Heli golf trip is easy to do. Initially, please contact us with a list of golf courses that you would like to play? A list of what area you would like to locate, and we will take care of the rest! Please note depending on the details required we will respond to you as quickly as possible with a Helicopter Golf Ireland proposal 
What Bill Nardiello, said about his Irish Golf Helicopter Tour.
Hi John! I just got back from the USGA Senior Amateur where I caddied for a great friend of mine! He missed the match play but we had a great time!

Here is my feedback for the fabulous trip: The best courses were: Old Head, Adare Manor, Portmarnock and the European Club. Tralee and Waterville were fun and enjoyable but Ballybunion and Lahinch were not fun because of the conditions!

 

The hotels were excellent and the food and service were outstanding. With the helicopters taking you to the courses, the experience was terrific because you eliminated the drive time which could have been considerable and taken away from the experience. However, it would have been a little more convenient to stay in one place as a home base versus moving to another hotel. Not a big deal but it might make the experience a little better.

 

Finally, your service and attention to detail was incredible! The service was terrific and you made all of us feel very special! It was truly a trip of a lifetime! My only regret was that you did not have a chance to play with us, although you played with Steve one afternoon, and we did not get more lessons from you! John, thanks again"

 
5 things to think about to enhance the Helicopter Golf trip of a lifetime!
Firstly, keep a daily video diary of the Irish Helicopter golfing trip. Additionally, the group can hire a photographer to capture all of those golfing moments to create a photo-book. Yes, an easy way of collecting memories for a lifetime. 
Notably, golfers ensure to have sufficient ground transportation to chauffeur golfers back and forth to different places without the stress of looking for last-minute taxis.
Also, be sure to book extra sights to see, such as a Helicopter trips to see the Cliffs of Moher, Aran Islands or the Skellig Islands.
Critically, book the Helicopter trip early and secure the best Golf tee times. Furthermore, Concierge Golf will take great care and attention to the groups needs at all times. Ensuring that every golfer enjoys their Irish golfing experience without stress and gaining wonderful memories.
Don't book a golf Helicopter trip to Ireland by yourself as one date error can make a mess of the trip. Save yourself the time and work with a golf tour company with the expertise to arrange the trip from start to finish.
Finally, to avoid any disappointment, start to plan a Golf Helicopter Trip at least one year in advance.
Finally, please feel free to contact us today and we would be delighted to talk with you.

Also, please feel free to read more about fun things to do on helicopter golf trips and click here. & click here to review another sample Helicopter Golf Tour.