Golf is a sport that requires a combination of skill, technique, and patience. Whether you're a seasoned golfer or just starting out, mastering the game can be a challenge. But fear not, with the right tips, you can lower your scores playing golf links courses.
In this article, we'll share tips for Playing Golf Links Courses that are sure to lower your scores. From making better decisions, these tips are designed to help you achieve greater consistency and accuracy.
So whether you're looking to shave a few strokes off your game or just want to enjoy golf. Please read on to discover our top golf tips for playing golf links courses. Get ready to step up your game and become a master of the links!
10 Tips for Playing Golf Links Courses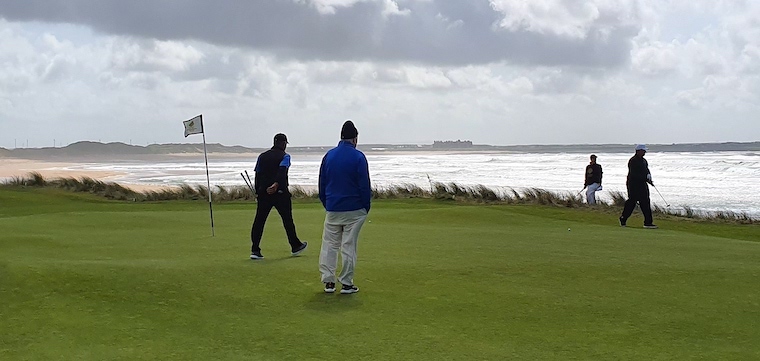 When there is too much trouble on one side of the hole, and just rough on the other side, aim away from the trouble and save a few shots. 
Golfers focus way too much on hitting at the flag, change that plan and aim for the middle of the green. Try it and you will save yourself a lot of shots! 
Distance: know how far on average you hit each iron (we are talking about carry in yards and not total distance) ensure you ask your caddy for yardage that accounts for the ball bounce and roll and not to the flag. Typically golfers that hit for the flag end up over hitting the green often!
The Safety shot: become a one trick pony, try and play functional short that work for you and avoid playing shots you never played before.
To help with feeling the "speed of the greens". Before you play practice 20 and 10 foot puts for 15 minutes and practice hitting 2 balls from each distance to the hole.
Let your birdies be your daily bonus, rather than playing the one-in-a-hundred shot to hit the ball close to the flag. Please, play to what you can do comfortably and not what you think you can do.
Notably! The punch shot! You may practice swinging and hitting balls with low irons, try to shorten your back swing, and hit the easier shot. Position the ball in the center of your stance and grip the club a little lower on the handle. Practice hitting your 4 iron the same length as your 7 iron.
Indeed, practice chip and runs shots with your 7 irons, putter, and utility clubs. Find your favorite club to play your chip and run shots. 
Fear The Wind! You can beat a headwind, you must give in to the wind! The plan is to launch the ball lower, start with using more clubs and avoid creating too much spin by hitting the ball hard.
Finally, improving your course management around a links course is the most efficient way to lower your scores. Such as, when you are in the love grass, use your wedge to hit the ball back in play and avoid trying to hit the ball too far from the rough. The rough can snag the clubhead and thus the ball can end up anywhere!
Dooley noted! Don't forget your golf bag essentials 
Since the weather is testing, and forever changing, good and bad conditions up and down the coast of Ireland and Scotland. Please, make sure you arrive for your links golf well-prepared.
We certainly advise you to never leave home without rainwear in your bag, regardless of how good the forecast looks on your weather app! However, the opposite can happen. On a beautiful sunny day, you need to have your suncream, as the wind can often add to the burning of your skin where your nose and ears will thank you later!
Yes, you can lose a load of golf balls, but you don't need 40 balls in your bag, and be nice to your caddy by keeping your bag light. Also, play fast, don't be the slow poke regardless of all the shots you are taking. Suitably, if you can hire a caddy, please do, as the caddy service adds so much to the golfing experience. 
Notably, grab a few drinks for your golf bag if you are playing early or late in the day. As many links courses are 'out-and-back' layouts, the halfway hut may be closed when you get there.
Finally, wooded tees, pitch repair tools and be nice to yourself on the golf course. There is no point in giving out to yourself when you hit bad shots. Golf is to be enjoyed and avoid sorrow. 
Please take a look at what to Pack on a golf links trip to Ireland or Scotland. Click here