The following is a list of useful golf accessories for playing golf in the rain. Ensure to pack some of the following items for an upcoming Irish or Scottish Golf vacation. Because playing golf in the rain is likely!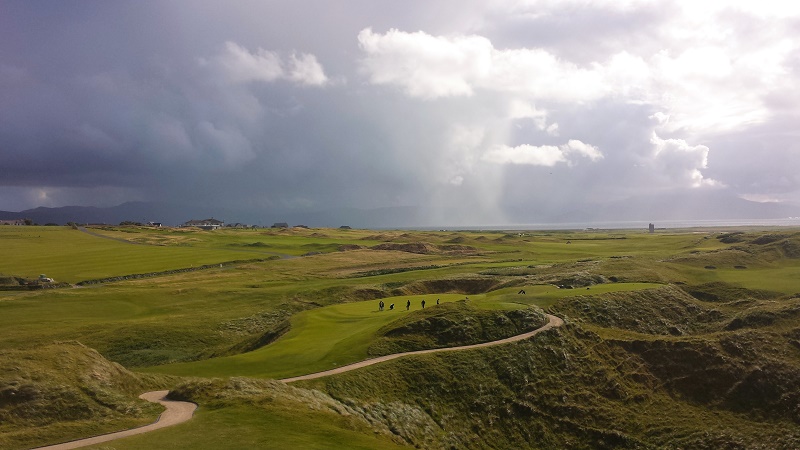 Tralee Golf Club
Hate it or Love it! Playing Golf in the Rain!
A full rain suit: (Pants & Jacket)
A rain suit lined with Gortex is the current suggested number one suit keeping golfers dry on a wet day. Clearly, avoid leaving home without a rain suit. Notably, Concierge Golf suggests contacting your local golf shop to buy the latest and greatest suit brands available. We find that the Galvin Green brand of rainwear is one of the leading rainwear to use. Notably, we find that the Galvin Green brand tends to keeps you dry except when the wind and rain are pouring and blowing sideways! Moreover, the Galvin green brand is not a big fitting suit and the brand tend to fit the slimmer body type. However, there are a lot of rainwear brands available to buy such as; Footjoy, Under Amour, Ping, Cross, Adidas, Zero Restriction, Kjus & etc.
Types of Rain Hats:
You can find Gortex baseball, wool or bucket hats at the various golf shops that you visit. Certainly, I find that the Gortex bucket hats are the best for keeping your head and neck dry. However, on a windy day, the hat flaps can be annoying. Therefore, I'd suggest buying a Gortex Kama branded wool hat. The Kama hat styles offer both peaked and standard wool Gortex hats. The hat is long enough to cover your ears and I like how this hat style performs during the wind and rain.
Rain Gloves:
You can buy a pair of rain gloves just about anywhere. However, there are cold gear rain gloves and when the rain is pouring! The cold gear glove tends not to grip the club as good as the standard rain gloves. An example, ensure to buy a Footjoy pair of rain grip gloves and avoid picking out a pair of Winter-sof gloves.
Waterproof Golf Bags:
Callaway, Nike, Sun Mountain and Titleist. These brands offer a mixed range of stand and cart bags that should keep everything dry and sheltered in any conditions. Also to be extra safe as sometimes rainwater has a habit of getting all your items wet! You might consider keeping a few of the plastic pocket size zip seal bags in your golf bag. If you play a lot of golf in Ireland and Scotland, it is worth investing in a waterproof golf bag for your Irish golf vacations.
Baseball Hats
You might come across a long-peaked style of golf baseball hat that is good to keep the rain off your glasses. Should you lose or run out of supply for your contact lenses. Also, Galvin Green have a golf cap with warm lining and ear flaps and this too is handy for cold and rain!
Wind Umbrellas:
The mighty wind umbrella must be comfortable to hold. Also, open the umbrella to ensure that there is a double canopy with velcro closure straps. Notably, the umbrella should feel lighter than an ordinary umbrella. Check if the umbrella is lightning resistance?! However, I do not suggest playing in a thunderstorm to test out that feature!
Golf Bags Covers:
The golf bag rain cover is ideal to keep your cart bag and clubs dry when the rain is blowing sideways. Do try on the size before you buy, as it's possible to buy rain gloves that are smaller than other brands. Also, ensure that the rain cover is elasticated edges for a snug fit. Good, solid strong strap with some types of buckles that can be attached can be essential. But the cover must be easy to open and to access your clubs.
Body Warming Undergarments:
Check out a range of garments that can be worn underneath your rain jacket. Nike, Under Armour and Galvin Green, manufactures various types of undershirt garments. The varied mix of materials used by different companies is suitable for the crazy Irish and Scottish weather. As mentioned, easy to wear undergarments is a crucial item to pack for your upcoming golf trip.
I hope you enjoy your Irish or Scottish Golf Vacations this 2017 and please feel free to contact us about booking your next golf vacation to Ireland, Scotland or England. Read on about Golf at the British Open.
John Dooley PGA | Luxury Golf Experience | Helicopter Golf Ireland
Web: www.conciergegolfireland.com
Email: [email protected]