Ireland golf trip 8 days TO THE WEST, NORTHWEST OF Ireland
Carne Golf Links West & Northwest Ireland
 A Golf Trip to the West and Northwest of Ireland is an Irish golf links heaven. 
The only major difference between golfing in that extra time travelling in Northwest of Ireland between destinations. However, there is no need to concern as all CGI's golf trips are travelling with luxury transport.
Essentially, the best of golfing weather is from May to September for the west of Ireland. However, golfers would expect to play golf in good Irish weather conditions (don't forget your rainwear!). Also, enjoy the views of the rugged Irish landscapes along with beautiful Irish scenery untouched for centuries.
Play 154 Holes of great golf over eight days! Indeed, the quality of golf courses located in the Northwest of Ireland are fantastic. Certainly, every golf links course is different and it is hard to compare well-known courses like Ballybunion and Lahinch to courses like Carne and Co. Sligo Golf. 
Perhaps, golfers sometimes overlook the wonderful courses in the Northwest of Ireland and pick the household named Irish Links Golf Courses. However, may I strongly recommend an Ireland Golf Trip to Northwest of Ireland. I can assure that golfers won't be disappointed with the challenging and superb golf links courses located in the Northwest.
Golf Courses to Play in the Northwest
"John and the team at concierge's golf made my 60th birthday golf trip to Ireland a wonderful experience. Everything turned out as planned and the golf courses they chose were superb. For our next golf trip to Ireland, I will be sure to use Concierge Golf. Thank you so much John. MFD"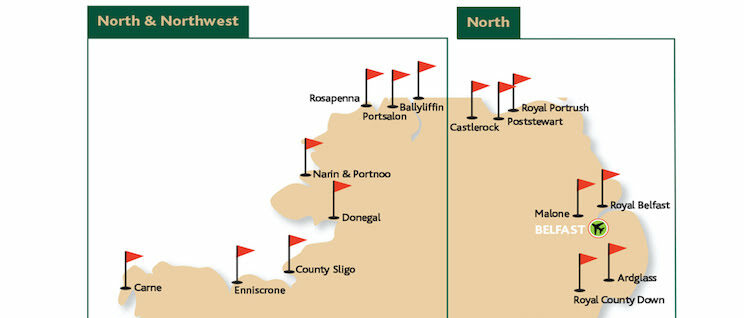 1st Day County Sligo Golf Club

2nd Day Carne Golf Links

3rd Day Enniscrone Golf Club

4th Day Rosapenna Golf Resort, Old Tom Course

5th 36 Holes at Rosapenna Golf Resort, St Patricks & Sandy Links Courses

6th Day Ballyliffin Golf Club – Glashedy Course

7th Day Narin & Portnoo Golf Links

8th Day Donegal Golf Club

9th Departure
Our 1st Choice Recommended Hotels
Co Sligo Radisson Hotel 4*
Rosapenna Golf Resort 4*
Loch Eske Castle 5*
Transport
Golfers can choose from a Luxury coach to suit groups from 4 to 24. Also, golfers can choose a self-drive rental to suit their needs and requirements. We find that self-drive rentals are great for golfers that want to play 36 to 54 holes a day!
Guide Pricing based on 8 golfers for 7 days Golf
A good approximate price based on 8 golfers playing 8 courses over 7 golf days, in a luxury bus, using 4* hotels ranging from €3,750.00 per person sharing.  
Notably, this Irish Golf Vacation is based on a group of 8 golfers. Also, a typical package created and managed by Concierge Golf Ireland includes the following: Taxes paid in full, tee times, accommodation, luxury transport, and the full range of Concierge Golf's customer services. Also, please note that pricing will vary due to availability and seasonality, sharing rooms or single occupancy, transportation type, and accommodation standards.
Dooley Noted on Golf Trips to the Northwest of Ireland
Indeed, on this Irish Golf Trip, golfers are playing the top-recommended Irish links courses in the West and Northwest of Ireland. Essentially, Concierge Golf will only with the best transport and hotels to suit your service requirements. Enabling the group to enjoy excellent accommodation and great fun in Ireland. On occasion, due to the odd narrow Irish road, there will be longer travelling between hotels and golf courses.
Please do contact us
, for more about this Irish Golf vacation or similar vacations to the West of Ireland. Also, we will send a full list of Concierge Golf Ireland golf services and extra things to do. 
Finally, if you would like this type of Irish golf vacation or a variation of this Irish golf tour? Indeed, please contact us right away, and we would be delighted to work out your own special itinerary. Golf Northwest of Ireland with Concierge Golf Ireland