The Best Golf Courses Ireland 2023
What are the best golf courses Ireland to play? Over the years, publications such as Golf Digest, Golf Monthly, Golf World, and several different publications created and published their versions of what are the top 100 golf courses in various countries.
Most of the worldwide golf publications quote that the Irish Links are the best Irish Courses to play compared to the Irish parkland courses. With this in mind, the top-ranked courses in Ireland are all golf links courses. Such as the world-class Royal County Down Golf Club, Royal Portrush Golf Club, Portmarnock Golf Club, Lahinch Golf Club, Ballybunion Old Course, and Waterville Golf Links.
All of the six golf courses are the most challenging courses to play well and post a good score. However, there are also factors that affect scoring such as the type of weather, the golfer's ability to play links golf, the time of day, the playing conditions, playing from the right tee blocks, and so on.
These factors all have a significant influence on how the golfer defines his or her golf experiences. Additionally, the anecdotal evidence that I have collected over the years, is that not all golfers love the same courses.
What do our Golfers say about the Best Golf Courses Ireland?
We gathered information from the various golfers that we worked with since 2002. Our approach is to identify the quality and the experience of the golf courses played. We ask and listen to golfers as they describe how they rank the courses played.
Thankfully golfers were only too delighted to talk about their golfing experiences and their feedback is very important to us. Also, it is worth noting that Royal County Down is currently the clear favorite of all the Irish courses played. Whereas Old Head is the top course for golf course views and wow factor. Where the back nine at Arnold Palmer's Tralee Golf Club is cited for a beautiful back nine of golf holes. 
Carne Golf Links is ranked for great value golf links courses and Co Sligo just pips Enniscrone, Co. Donegal, Ballyliffin Glashedy Links, and Rosapenna Golf Resort for the top courses in the Northwest of Ireland. Also, it is a toss-up between Lahinch and Ballybunion as to which course is favored in the Southwest. The weather has the biggest influence on that decision. 
Additionally, take the Rosapenna Golf Resort, golfers can enjoy playing three top-quality golf links courses from the doorsteps of the hotel. In other words, play golf until you drop. Should you need a course to play off campus? Ballyliffin is about an hour or so drive and Portsalon is less than 30 minute drive from Rosapenna. 
Notably, the European Club stands out as the hardest course to play in the East, and Portmarnock Golf Club is the highest-ranked. That said, County Louth, The Island, Portmarnock Links, and Royal Dublin have ranked highly also. If I may be biased, there are a lot of world-class golf links Irish courses.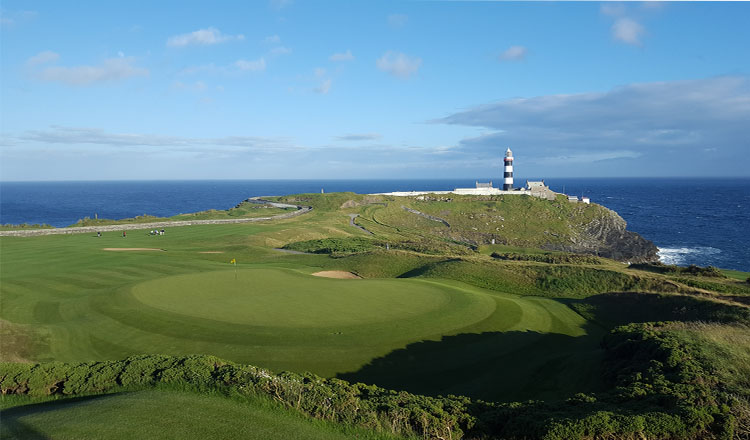 Top Irish Golf Courses to PLay by region
Adare Golf Resort
Ballybunion Golf Club
Castletroy Golf Club
Trump Doonbeg Resort
Lahinch Golf Club
Tralee Golf Club
Waterville Golf Links
Carton House Golf Resort
County Louth Golf Club
Druids Glen Golf Resort
Portmarnock Golf Club
Portmarnock Links Resort
Powerscourt Golf Club
Rosslare Golf Club
Royal Dublin Golf Club
The Island Golf Club
The K-Club
Ardglass Golf Club
Castlerock Golf Club
Hollywood Golf Club
Lough Erne Golf Club
Malone Golf Club
Galgorm Castle
Portstewart Golf Club
Royal County Down Golf Club
Royal Portrush Golf Club
Ballyliffin Golf Club x 2 Courses

Glashedy Links
Valley Links
Pollen Links (par 3 course) 

Carne Golf Links
Co Sligo Golf Club
Connemara Golf Links
Donegal Golf Club
Enniscrone Golf Club
Galway Bay Golf Club
Narin & Portnoo Golf Links
Portsaloon Golf Club
Portumna Golf Club
Rosapenna Golf Resort x 3 Courses

Old Tom 
Sandy Hills
St Patricks

Strandhill Golf Club
Golf Experience Ranking
Indeed, a golf-course ranking method can be further explained by ranking courses describing the golfer's experiences under various headings. Such as defining the course type (links, parkland, desert, heathland and so on), add a rating method from 1 to 10 that reflects the expectations and standards. 
The type of course, practice facilities, golf shop and golf services?

 

Caddies service standards and how was the overall caddie experience?

The pace of play and is there a 1st tee starter and course rangers? 

The clubhouse facilities and food standards. In addition, how was the s

taff interaction and rate "the welcome"?

Finally, how much to play golf based on the course presentation and overall experience. 

The Course challenge. Did the course challenge your game?

Reflections, how did the golfing experience match the initial overall golfing expectations? Use other golfing experiences that can be used to compare and contrast that experience.
Collecting the Information
Notably, the collection of accurate experiential golf course is difficult to collect and, there will be bias. Mainly, because a golfer's experience is likely to be biased, and an experience will be influenced by social norms or other piers within the group.
Therefore, golf course rankings cannot be without bias regardless of whatever publication states that their top 100 golf-courses to play in Ireland are said to be fair and accurate.
However! The created list is a slimmed-down guide to the ten best golf courses to play in four different Irish regions. Of course, there are many other courses to play in Ireland and the point is, that we selected the golf courses based on what we believe to be a "worthy, excellent and enjoyable golfing experience."
The forty courses are listed in alphabetical order, and indeed some courses are better than others. Altogether, it would be great to play the complete above list. Primarily, I would promote golfers make up their minds without the bias of social pressure on the so-called top golf courses to play. Mainly, the golfer should rank accordingly. Therefore if the golfer's course experience was poor, he/she should explain that experience. Equally, writing a great review when the course beats expectations. Golfers can use online forums such as trip-advisor and google places to record their reviews. 
Dooley's Notes on the top Irish Golf-Courses.
Caddies services differ from club to club. Indeed a caddy experience adds to enjoying the golfing experiences for several reasons. Typically, the caddie's character, as each caddie is very different and how they believe the game should be played is very interesting and entertaining. To avoid any disappointment, ensure to request caddies a few months in advance at each golf course that is on the trip.
Golf Club Rentals. If you are on a short trip to Ireland? Yes, it is more cost-effective to rent golf-clubs from an Irish club rental companies rather than at the golf course. Mainly because of the cost for the daily rental at a golf course is more expensive than weeks rental from a golf club rental company.  
One of the main differences between the Irish and Scottish Golf Courses is the bunker design. Golfers would find that the bunkers are deeper in Scotland and possibly more challenging. However, on that note, which do you prefer, the Irish or Scottish bunkers?
Contact Us Today.
Finally, please contact us and let us know your comments on the best golf courses in Ireland to play? Click on this link to view the locations of the best Irish golf courses CLICK HERE. Written by John Dooley: www.conciergegolfireland.com | [email protected]
Also, the next blog post to consider is: Golf Northwest of Ireland click on the link to continue and Concierge Golf's golf course reviews at the following link, CLICK HERE to read on.
Notably, you might find interesting my top 3 Irish Golf holes to play? Please click here and read on. Or read about golf in cork Click HERE or Clunk HERE for more where tp play golf in Ireland.