Royal County Down Golf Club 2018
Notably, Royal County Down is one of the best known golf courses to play in Ireland. Indeed from past years, the demand to play at RCD has become quite high, the tee times are booked almost a year in advance of the date of play. Since the Open played at Royal Portrush Golf Club, please add that course to the list of demanded courses to play in Ireland.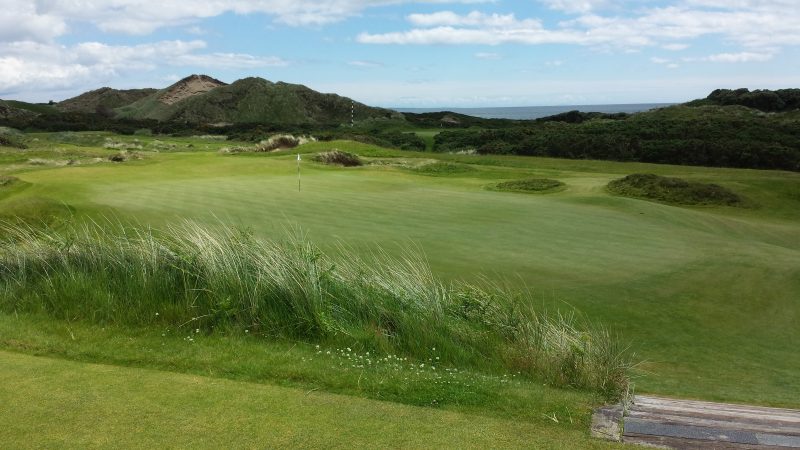 Royal County Down in September.
The following was an itinerary craete for 8 golfers. But the golfers had to cancel their golf trip for September a few weeks in advance and depsoits and payments where made in full.
At the time, they asked if we could offer their golfing schedule to another eight golfers. However, we were luck enough that the golfers pick up the trip and the guys were able to get theior money back. It is fun for  to playing golf at Royal County and Royal Portrush Golf Courses. Notably, we find that four days is a good size trip for 8 golfers and The ISalnd and County Lought Golf Coruses are two good courses to warm up before tackling the two of the best in Ireland.
Also, two 5* hotels for one night in Dublin and the following nights in Belfast. Finally, golfers can enjoy a beautiful luxury bus to transfer you from your hotel to the golf courses and back again.
In summary:
Play golf at The Island Golf Club, Royal County Down, Royal Portrush and County Louth Golf Club.
Four nights luxury accommodation in single rooms at a 5* Hotel in Dublin & Belfast.
Luxury Transport Daily with a group transfers to and from the Airport (Suggesting Dublin or Belfast Airport)
Price Per Person starts from £2,555.00 per person (pricing was 2018).
Golf Courses:
Fri – Day 1 Play the Island Golf Club, Dublin 
Sat – Day 2 play golf at County Louth Golf Club
Sun – Day 3 play golf at Royal County Down Golf Club (afternoon)
Mon – Day 4 play Golf at Royal Portrush Golf Club 
How to Book:
Contact US today by CLICKING HERE to enquire or book this golf tour to Nothern Ireland.
Eamil: [email protected] | Tel: +353212427913 ask for John.
What to Expect:
Besides, playing four of the best golf courses in Ireland and enjoying four comfortable nights at relating hotels. Concierge Golf Ireland will book and manage all requirements for each golfer. Such as, evening meals, sightseeing things to do, whiskey tasting, arranging caddies where possible, etc.
The important part of our service is that we are on hand to deal with any type of situation that might develop. For example; should a golfer's travel plans change? We can manage and arrange the logistics to get that golfer to the airport on time, ship their golf clubs home or luggage or any services that are required. 
At Concierge Golf Ireland we take care of everything for you. Indeed this link here will direct you to read more about CGI as a preferred Irish Golf Tour operator.