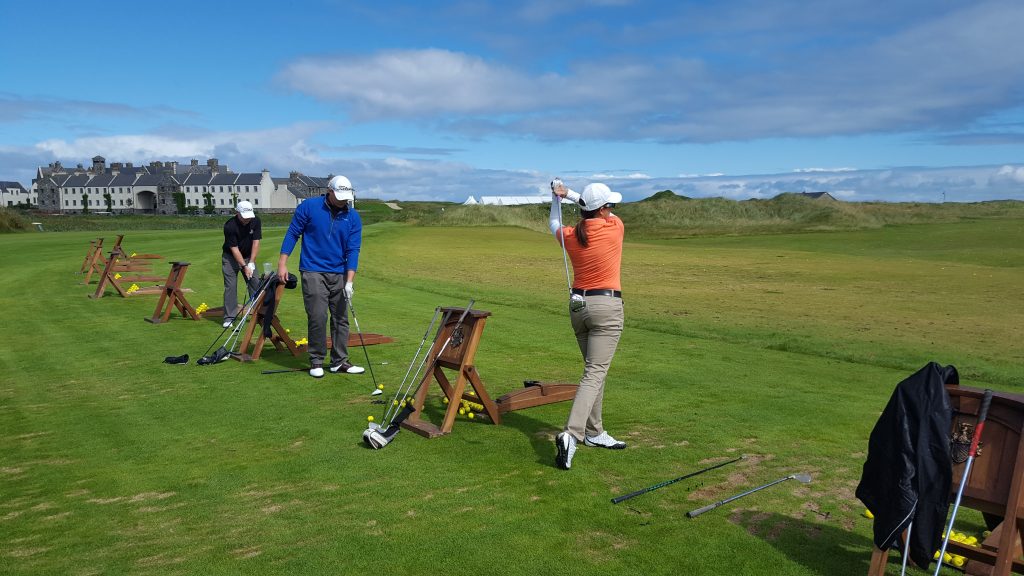 Five golf gifts for Christmas golfers
Ahhh! When you can't really think about what to buy a golfer for Christmas? Well, I have five golf gift categories that might help you decide on a gift to buy. I have picked out the following items to help trigger further ideas for you. As it's likely that he or she may already have a lot of these items. But, it's worth checking out what they have in their golf bag or what is not hanging on the office wall! Therefore, I came up with a list there are golf prints of their favourite golf courses, golf lessons, types of Irish Golf Tours, a shortlist of golf books and a few golf gadgets to think about. Five golf gifts Christmas Golfers.
1. Golf Photography Buy a Golf Hole Print?
Recently,  I have found myself clicking on the following website link looking at some fantastic golf course locations. Indeed, click on Patrick Koenig's website to view more. Patrick is Photographer and I had the pleasure to play golf with Patrick at Cork Golf Club during the summer, a nice guy and a good golfer. Also, from his website, you can order all sorts of prints to the size that you want from his website. Once the print arrives, take the print to the nearest framer. The average cost of a poster size of 18 x 12 and do ask for the cost of postage. Additionally, I would suggest a really nice big frame for the print that is suited to his or her's office.
2. Golf Lesson Packages in a Christmas stocking would be nice!
You can't go wrong buying golf lessons as a Christmas present if you are stuck! Therefore, contact your partner's golf club Pro Shop and check out what golf lesson packages are on offer.
3. Gift Vouchers for Golf  Vacations to Ireland 2022 and beyond!
A GOLF TRAVEL gift voucher will help your loved ones with arranging the trip of a lifetime to golf all the top golf courses in Ireland on their very own golf trip of a lifetime. Fly into Dublin or Shannon and spend the time playing golf and touring around Ireland. Indeed, once the trip is planned and booked in advance, they will be playing all the top golf links courses in Ireland for 2022. There are also Irish Golf Trips for couples, playing golf, sightseeing and enjoying romantic Ireland! Click here for Concierge golf Ireland, Golf Travel Shop and select the gift voucher amount required.
Concierge Golf Ireland are simply one of the best at arranging the best of Irish Golf Trips. Please purchase a gift voucher at Concierge Golf Ireland for your special person. Contact us at Concierge Golf Ireland to purchase gift vouchers.
4. Golf Books: A quick list of my favourite golf books
The Life and Work of Dr Alister MacKenzie, currently priced at £409.00 pounds sterling.
Talking to GOATs: The Moments You Remember and the Stories You Never …
Seven Days in Augusta: Behind the Scenes at the Masters by Mark Cannizzaro
Ben Hogan's Five Golf Lessons
Bob Rotella's, Click here for Golf is Not a Game of Perfect, Putting Out Of Your Mind, The Golfer's Mind 3 Books Collection Set By Dr Bob Rotella. Costs approx £28.00 
Fifty Places to Play Golf Before You Die: Golfing Experts Share the World's Greatest Destinations
Every Shot Counts by Mark Broadie
Who's Your Caddy by Rick Reily
Also, all of these golf books can be sourced from any online retailer or
5. Golf Gadgets: A list of quality golf gadgets | Five Golf Gifts Christmas Golfers
The range of golf gadgets that one can buy is endless. Finally, should you need any advice, please do not hesitate to contact me at Click HERE | Five golf gifts Christmas Golfers