The Last Swing, Mr Edward G. Tovey.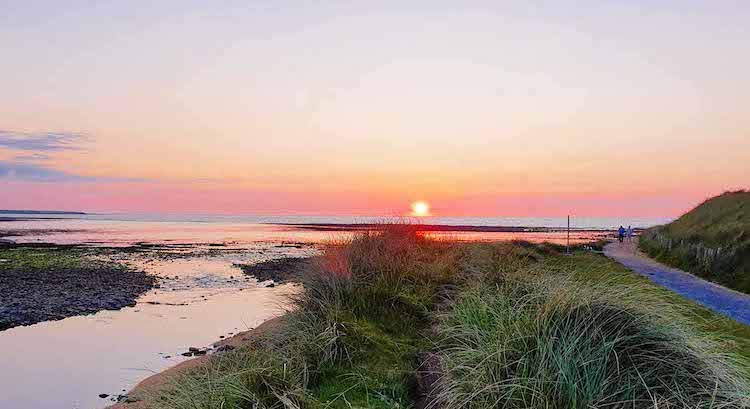 The last swing or should I say on the first swing I first met Eddie Tovey when I worked at Faitlegg Golf Club. Notably, Ed was on tour and he spent the better part of a year travelling Ireland introducing Doonbeg Golf Club to various golfers and golf courses.
It was at this time I met a tall, well dressed, silver-haired confident man, that was blessed with all the joys of life. He greeted me with a nice warm "hello", we exchanged pleasantries and I directed him to his meeting with the MD at Faitlegg Golf Club. Little did I know, that an 18-year friendship with Ed would soon develop in May of 2002 when I started working at Doonbeg Golf Club.  
Ed the Golfer
When it came to playing golf, Ed was as competitive as it gets and he had the game to back it up. I remember playing golf with Ed on numerous occasions. Although, he smiled like the Cheshire Cat when he won, nevertheless, he was gracious when he lost the odd round. His game was well suited to links, as he hit straight tee shots which had a low ball flight that benefited from a good bounce and roll. However, Ed's real strength on the course was his wedge game and around the green. Strangely, he rarely 3-putted and he always seemed to make the important clutch putts. 
Most golfers that played at Doonbeg met Ed during his time there from 1998 to 2012. I used to think that I got around, with the amount of time I spent travelling to the USA playing golf. Naturally when I met people, playing golf in Ireland, would be a topic we discussed and I would encourage them to take golf trips to Ireland. When I mentioned Doonbeg it would be quite common for people to say, "how is Ed Tovey, doing?" or they would ask, "is the guy with the big smile still there? He was such a nice man."
Ed was the face of Doonbeg in so many ways. He was constantly meeting people, playing golf with people, entertaining people and he always enjoying a good laugh. Some people referred to Ed as the Face or as the Tove. But, Ed was the man to meet and he was the reason so many people travelled to Doonbeg and extended golfing vacations to Ireland.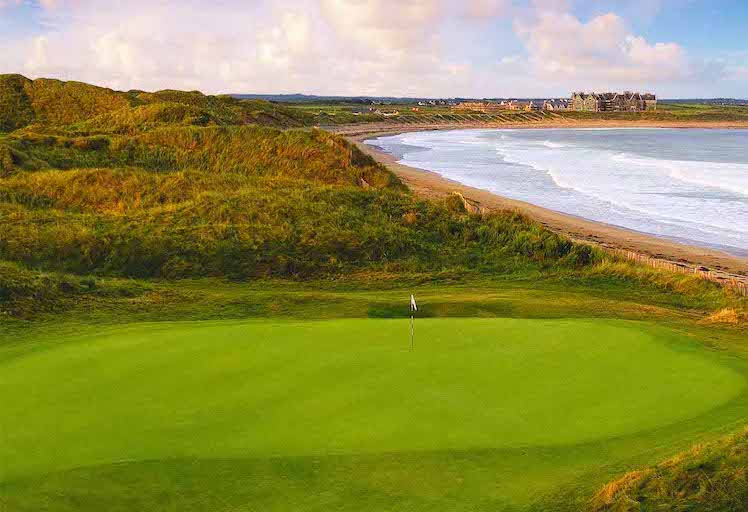 Doonbeg, The Village.
Ed was enthusiastic about the village of Doonbeg and his interaction with the people was charismatic, fun-loving and always friendly. I fondly remember many occasions spent with Ed at Tubridy's Bar and Restaurant. Indeed, Tubridys is one of Doonbeg's finest Irish pubs.
On Wednesday nights, Patrick Roche (an excellent musician) would perform and people from all over the county would come to be entertained. Ed, from time to time, and to the crowds' delight would get up and sing 'The Fields of Athenry' with Patrick playing the guitar in the background. Indeed yes, Ed knew the song by word, by the tune and by verse and he rarely missed a beat, even to "HEY BABY LET THE FREE BIRDS FLY." Not only was Ed a master at hosting and entertaining people who came Doonbeg. However, he also loved everything about Doonbeg, the village and the wider area of Killkea and County Clare.
Ed truly loved spending time at Morrissey's Seafood Bar and Restaurant and became great friends with the McNally family that ran Morrisseys. He even converted into a Munster Rugby fan and developed a love for the game of Hurling. Ed was a proud Canadian and as Canadians do, he played hockey. Particularly, he played Senior A for the Whitby Dunlops in the late 1950s. As well as, Ed enjoyed telling his story about the time he played with the legendary Bobby Orr at one of the training camps. In his career, Ed worked his way up to Senior VP of Sales for Petro-Canada and he also spent some time in the golf travel business before finally working at Doonbeg as the VP of membership and property sales.
The Last Swing
Ed did what Ed did best. Uniquely, he was great at connecting people with other people. Similarly, he never backed down from chances to create opportunities. If you were fortunate to have met Ed along the way? Of course, you no doubt will have a story to tell, and I am sure it will be very entertaining. I will always remember Ed as a kind, gracious, charismatic, confident and fun-loving man who was competitive. Indeed, a good golfer, a bunch of laughs and a great pal. Finally, Ed passed away on the 28th of November 2020, I am sure that unmistakable smile is now smiling where the free birds fly.
(c) John Dooley Concierge Golf Ireland on the Last Swing.
A Selection of Pictures of Ed Tovey and friends
Map of Ireland, Doonbeg, Co. Clare