Golf Ireland Trump Doonbeg
Golf Ireland Trump Doonbeg is one of the best Golf Resort to stay and play golf in Ireland. Mainly, the Doonbeg location is excellent for golfers travelling up and down the west coast of Ireland. Doonbeg would be close to Lahinch Golf Club and Dromoland Castle. Whereas Ballybunion and Tralee Golf Courses are not so far away. Notably, Doonbeg is less than a 50-minute drive to and from Shannon Airport.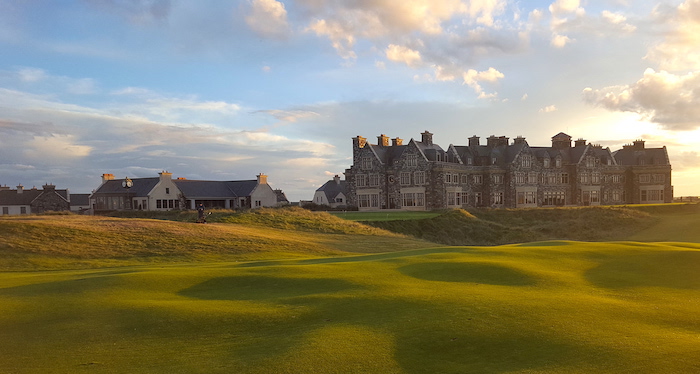 What we like about Doonbeg:
Essentially the Doonbeg Resort is magnificent. Also, from parts of the golf course, just from a glance at the lodge looks like the lodge had been there for hundreds of years.  
Although since the resort was built and opened in 2006, the room types remained quite relaxing with amazing beds for a comfortable sleep. The main hotel offers guests sea views in the lap of luxury. Indeed, the classic links cottage are quite spacious with each cottage up to 2,800 sq — Ft with four rooms and a spacious living area suitable for 4, 8 golfers or four couples. Notably, the cottages at Doonbeg are ideal for groups of golfers that prefer.
There are two restaurant types, and both are casual dining. Trumps is pub dining with menus for both lunch and dinner service. The Atlantic View is the other location which offers an evening meal dinner menu. Not to forget, there is also room service. 
The golf range is super for practising and warming up before playing. Both sides of the range can be used, and golfers can hit golf balls to their heart's content. Chipping and putting, bunkers and two practice putting greens.   
The course plays tremendous, and it's tough to play to handicap. Indeed, some holes may not be as challenging as Lahinch, but Doonbeg is a great test of golf. To compare Doonbeg to Lahinch is challenging to do as both golf courses are unique. However, what is notable is that Doonbeg has less blind shots off the tee. 
Doonbeg's History 
The history of Doonbeg dates back to 1892 when the officers from the Black Watch Regiment cited Doonbeg as a possible venue for a golf links course. However, the Black Watch had two sites for a golf course location, on in Lahinch and the other at Doonbeg. Lahinch was favoured due to a shorter walk from the railway station in Ennistymon to Lahinch compared to the distance to walk from Kilrush to Doonbeg. 
Sometime during the 1990s,  Doonbeg Community Development sot development of the site at Doonbeg and after much interest with the help of Shannon Development. Doonbeg Golf Club was put into existence when three family owners agreed to sell a combined 377 acres.
Following on, Doonbeg Golf Club opened in June 2002 by Buddy Darby's Kiawah Development Partners. Notably, Kiawah Development Partners (KDP) commissioned Greg Norman to designed the course at Doonbeg. Furthermore, KDP built and opened the existing lodge at Doonbeg in 2006. The lodge and courtyard consisted of 47 suites, and each of the suites was a mix of one, two, three and four-bedrooms of luxury. At that time in 2006, it was reported that Kiawah Development partners invested 150 million euro into the construction of the resort. 
During the winter of 2013/2014, four major storms hit the west coast of Ireland, causing significant damage to the sand-dunes at Doonbeg. Specifically, storm Darwin during February 2014 left the most damage to Doonbeg and significantly affected golf holes 5, 6, 9, 14 & 18.  Additionally, in 2014, The Trump Organisation bought Doonbeg for a reported 8.7m Euro. Since that time, Martin Hawtree redesigned several holes, and all 18 greens were redesigned. 
Currently, (September 2019) Golf Ireland Trump Doonbeg Resort has 23 cottages and 92 bedrooms in total. indeed, 12 Ocean-view suites with 34 bedrooms. Finally, the 33 suites within the courtyard have a total of 71 bedrooms.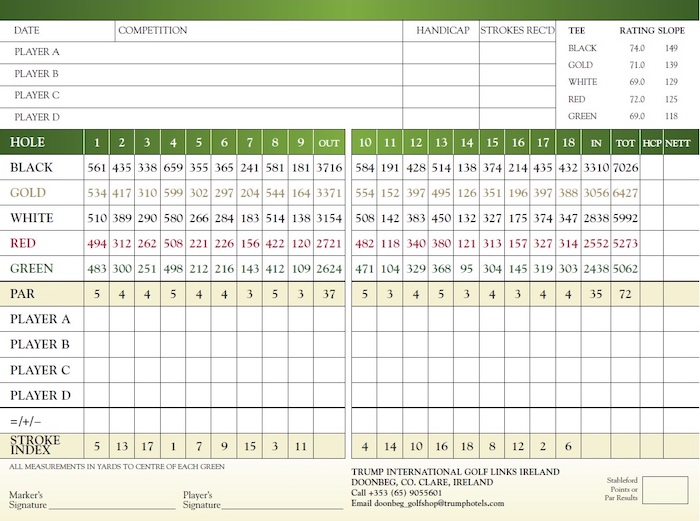 Irish Championship Golf Courses
Namely, the following golf courses are within a two-hour drive of Doonbeg Golf Resort:
Spanish Point Golf Club 9 Holes
Lahinch Golf Club 36 Holes
Ennis Golf Club
Dromoland Castle Golf Resort 
Shannon Golf Club 
Castletroy Golf Club 
Adare Manor Golf Resort 
Adare Manor Golf Club
Tralee Golf Club 
Ballybunion Golf Club 
Galway Bay Golf Club 
Sights to See Near Doonbeg
The Cliffs of Moher & Loop Head
Burren Perfumery & visit Aillwee Caves
Poulnabrone Dolmen & Caherconnell Stone Fort
The Bridges of Ross & Kilkee Cliff Walk
Bunratty Castle Banquet & visit the folk park
Restaurants to Visit
Wild Honey Inn (Bookings required)
Vaughan Lodge in Lahinch (Bookings required)
Morrisseys Doonbeg (No reservations are taken)
Naughton's in Kilkee
Lisscannor, Vaughan Anchor Restaurant
Contact Concierge Golf Today