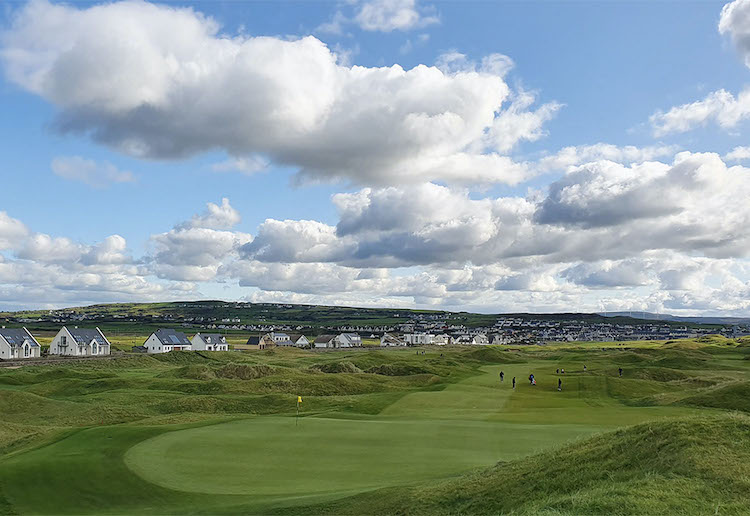 Marathon Golf Ireland…
Certainly, playing 36 holes a day for four days is tough going on your body! May I ask you, do you think you could manage to play 18 golf courses in 9 days straight? Well, recently I arranged the following Irish Golf Vacation for a father and son! Please, take a look at the following Marathon golf itinerary. What is truly amazing, besides that the guys played a lot of really nice golf courses. Is that, they played golf at the most northern point at Ballyliffin and one of the most southern points to play golf in Ireland at Old Head or Waterville Golf Links.  Consequently, they passed by both the starting and finishing points along the Wild Atlantic Way, located in Donegal and by Kinsale in Cork.
The Golf Courses: 36 Holes a day
Portmarnock Golf Club          &         The Island Golf Club
Ardglass Golf Club                 &         Royal County Down Golf Club
Portstewart Golf Club             &         Ballyliffin Golf Club
Lahinch Golf Club                  &         Trump Doonbeg Golf Resort
Killarney Golf Killeen            &         Dooks Golf Club
Waterville Golf Links             &         Tralee Golf Club
Cork Golf Club                       &         Old Head Golf Links
Mount Juliet Golf Resort        &         The K-Club
The European Club                 &         Druids Glen Golf Resort
Fly Home from Dublin Airport
The Accommodation, Hotels Along the Way
1st Night           Co. Down | Slieve Donard HotelHotel 4*
2nd Night         Belfast City | Merchant Hotel 5*
3rd & 4th           Doonbeg | Trump Doonbeg Hotel 5*
5th Night           Killarney | The Europe Hotel 5*
6th Night           Cork | The Radisson Blu Hotel 4*
7th Night           Kilkenny | Mount Juliet Hotel 5*
8th Night           Kildare | K-Club Hotel 5*
9th Night           Dublin | The Gibson Hotel 4*
Additionally, by using google maps, I am guessing the guys spend approximately, 31 hours driving and covered over 2,002 kilometres behind the wheel.  Notwithstanding all the great Irish Links Golf courses played. A number of highlights are certainly worth mentioning. The beds at Trump Doonbeg topped the hotel comfortability list and the hardest question to answer. What was their favourite course played? Without a doubt, the best course that they played and enjoyed the most was Lahinch Golf Club.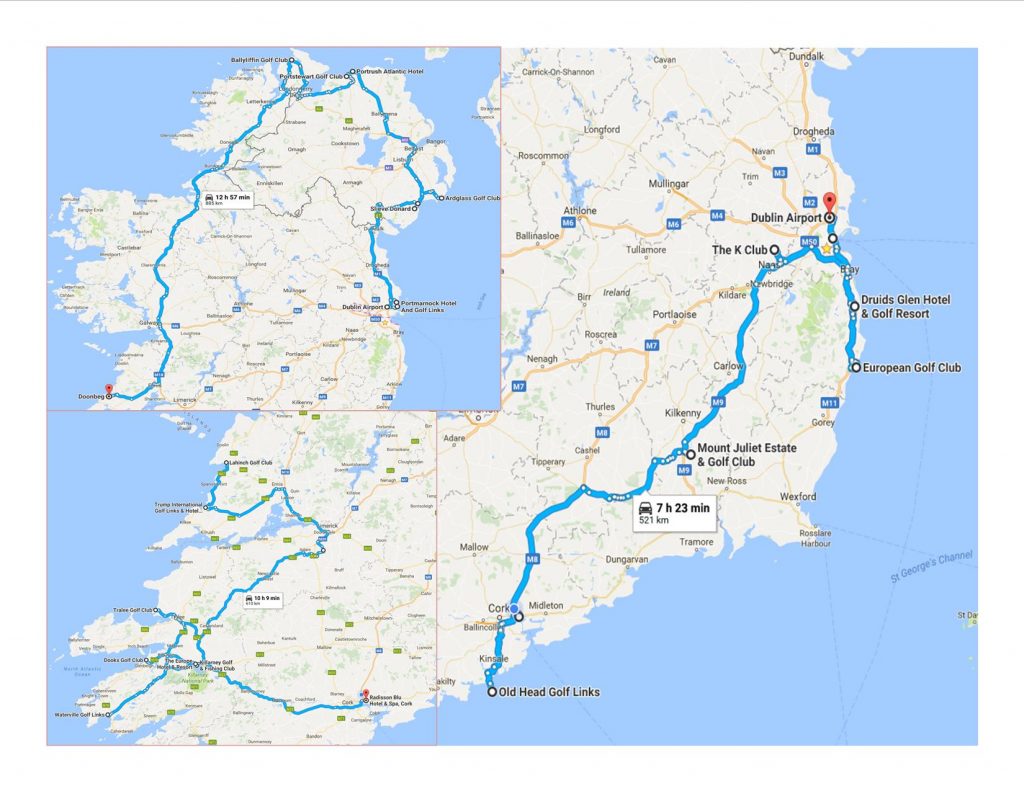 Final Dooley Noted
Notably, the guys packed in as much golf as possible. Unfortunately, there was not enough room to enjoy more cultural activities. Although, they found their choice of restaurants by asking Irish people about what was their favourite local restaurants. Also, they managed to kiss the Blarney Stone and saw the Giants Causeway along with viewing the Cliffs of Moher.
Moreover, this Irish golf vacation was simply two golfers playing golf from dawn until dusk. From talking with the guys, certainly, they enjoyed what they experienced and how they discovered Ireland. Marathon Golf is golf packed that may not be for everyone, however, why not…
Please let me know your comments and if you have any questions about such golf vacations to Ireland or Scotland. Email [email protected] or call us at +353212427913
Check out golfing in the East of Ireland for more ideas on golf experiences in Ireland. CLICK HERE | Please feel free to contact us to book your next Irish or Scottish Golf Vacation! CLICK HERE TO CONTACT US.
Indeed, if you ever have the chance, please may I suggest looking at Claremont Country Club. Click HERE to view more.