Irish Historical Golf Club Stories Ireland
As I was working on a golf itinerary, I came across Irish Historical Golf Club Stories. Mainly, about the foundation for Tralee Golf Club, Ballybunion Golf Club and Port Saloon Golf Clubs. Indeed, the information is available on each of the club's websites. However, I picked out small amounts of what I found interesting about each course.
There is a lot more historical information available, and these snippets might trigger more curiosity to look for more information.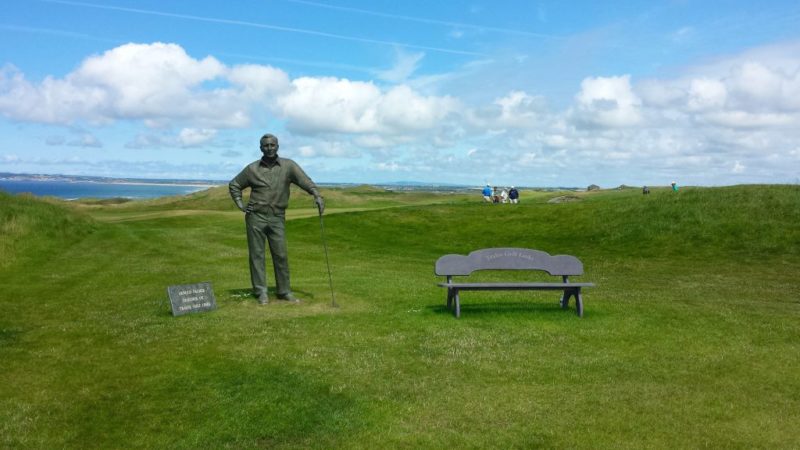 Started on the 1st of October, 1896 the club opened a nine-hole course in Tralee. A year later, in 1897, 120 members had joined the club and paid a subscription of just ten shillings a year. Besides, visitors had one-week to play free as part of their introduction.
Around 1920 During the 'Troubles in Ireland', Captain Lionel Hewson was hired to design a new course in Oakpark, Tralee. He noted that there was suspicious behaviour from a group of men that hung around the demesne walls observing him working and note taking. Indeed, the Captain wrote later that "bullets used to fly in those days on little provocation". Shockingly, Major McKinnon from the Auxiliary Division of the Royal Irish Constabulary was playing golf and was shot dead in March 1921.
Then to date, Arnold Palmer designed the course to play in Barrow as it is now since 1984. Notably, the previous location for Tralee's nine-hole course at Mounthawk near Tralee. It was a great achievement for the Club. Furthermore, since the members bought the at Barrow in 1980, the club facilities have grown into a superb golfing members club.
Interestingly, an Irish time article from 1897 labelled, 'The Golf Links of Kerry' and, called Ballybunion Course "a rabbit warren below the village, where a golfer requires limitless patience and an inexhaustible supply of golf balls."
Indeed, later that year in March 1987, MR. P McCarthy, General Manager, Listowel and Ballybunion Railway responded. "The course", he exclaimed, was "quite first class and a sporting course laid out by the professional who had laid out the links at Lahinch and Dollymount". Furthermore, the Ballybunion course designer was named James McKenna by The Irish golfer's guide. At that time Mr McKenna worked "at the instance of the Lartigue Railway Company."
Indeed, the connections to Ballybunion for the McKenna's are of historical interest. Shortly after Sean Walsh retired as the club manager 1992. Mr Jim Mckenna the grandson of the James McKenna held the position as General Manager at Ballybunion golf club until 2008.  
Colonel B.J Barton founded Portsalon Golf Club in 1891. Colonel Barton established the Portsalon hotel and golf links. The Colonel was instrumental in positioning Portsalon to become one of the nine founder members of the Golfing Union of Ireland. Notably, the Golf Union of Ireland is the oldest golf union in the world. Also, Portsalon was designed by the Portrush Golf Professional Mr Charles Thompson.
Indeed, what I found interesting. Subsequently, the golfing union of Ireland was founded by nine golf clubs. The founding nine clubs were Aughnacloy, Ballycastle, Buncrana Golf Club, Dungannon, Killymoon GC, Portsalon GC, Royal County Down Golf Club, Royal Portrush Golf Club, and Royal Belfast.
Talking to Portsalon golf club
Notable, extra stories to read: CLICK here for golf around the Northwest of Ireland
Also, CLICK here to learn more about Adare Manor Golf Resort. 
Indeed, Click Here for an article about links golf courses in Ireland and Scotland.