Golf Ireland in October is still a recommended month for decent Irish weather. There are late sunsets that are full of bright colours and not to forget the rainbow sighting without the pots of gold! Which are perfect picture moments at courses like Old Head Golf Links! 
Essentially, golfers may enjoy nice days golfing but equally; there may be a few rain days, and unfortunately, rain is wet!!! However, the central part of the trip is to line up the best golf courses and enjoy nice hotels and luxury transport.
Why? Because the group deserves it! But, ensure that you pack for all the possible occasions and pack your bag based on the weather outlook. Also, October in Ireland is not likely to be a month for wearing shorts and short sleeve golf shirts daily.
Access to Irish Golf tee times:
Indeed, it is disappointing when golfing groups have got their dates fixed only to find that they missed out on a couple of top Irish courses. Therefore, golf in Ireland in October might best fit the group's plans to play Royal County Down, Royal Portrush, Old Head Golf Links, Ballybunion Golf Club, Portmarnock Golf Club and Lahinch Golf Club. Which courses are heavily booked thought out the year. If not, you can always start planning those golf courses for the summer months of 2025. 
Essentially, the beauty about golfing in October is golfers can still book during golf trips in the coming months. Mainly, the reasons are that there are fewer golfers travelling in October than in other months. Therefore, there is a better chance of available tee times at the major golf links courses. Notably, October golf might suit a group of golfers who can schedule time off in late fall for an Irish golf trip.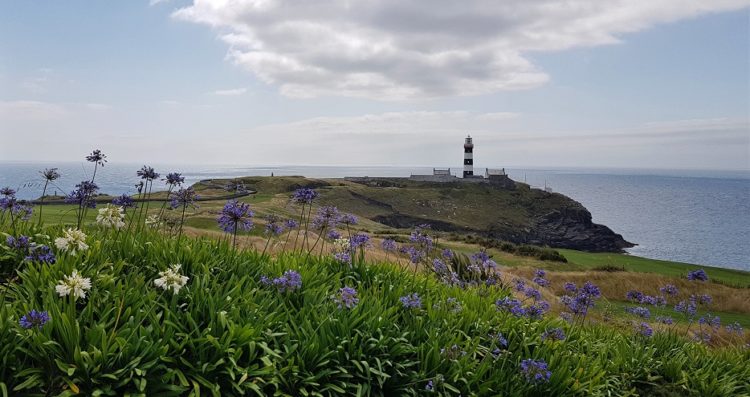 Irish Golf Links Courses to play in OCtober, 2024
County Louth Golf Club
Old Head Golf Links
Portmarnock Golf Club
Royal Dublin Golf Club 
The European Club
The Island Golf Club
Tralee Golf Club
Ballybunion Golf Club
Waterville Golf Links 
Lahinch Golf Club
Playing golf Ireland in October is a nice time of the year to be in Ireland.
Additionally, I find that golfers leave all sorts of important items at home and I have a list the important items to pack are as follows:
Wool-hat and a gortex rain hat. 
Extra golf gloves and rain gloves.
Pack a pair of shorts that can be worn underneath a rain paints for wet days and a temperature that is cool.
Undershirts such as long sleeve cold gear Underarmour and items like that would be good.
Do not leave without a rain suit. Please note a rain suit consists of a jacket and pants.
Additional, hand-warmers and pocket-warmers will help on wet days.
Indeed, pack a golf swing warm-up tool such as an orange whip or products like that to get the body moving on a cool morning.
But, before you leave check the weather forecast to identify what is needed to pack.
A brief explanation to the Irish Weather
Ireland's climate is influenced mainly from the North Atlantic Ocean's circulation system. Resulting, that Ireland does not suffer badly from extreme temperatures than other countries on a similar latitude. Notable the average temperature is a mild fifty degrees Fahrenheit or ten Celsius.
A major warm ocean current from the Atlantic Ocean called the North Atlantic Drift is mainly responsible for keeping the sea temperatures around Ireland relatively mild. The Irish Mountains ranges and hilly areas around the coastline shelters the island Ireland from strong winds coming off the ocean. However, on the links when the rain and hail are failing hard and blowing harder. Clearly, when looking at the hills and mountains it's hard to imagine where the shelter is coming from! Therefore, the Irish weather is quite changeable and not extreme.
Golf October in Ireland 2024
Please contact us right away for a sample itinerary for a Irish Golf Experience for October 2024