Top 5 Things to think about before booking a golf trip to Ireland
What are 5 Things to think about before booking a golf trip to Ireland? Firstly, consider what courses to play, the types of hotels, transportation, what sights to see and where are the best restaurants? Notably, the following 5 points will help golfers researching into booking a great golf trip to Ireland.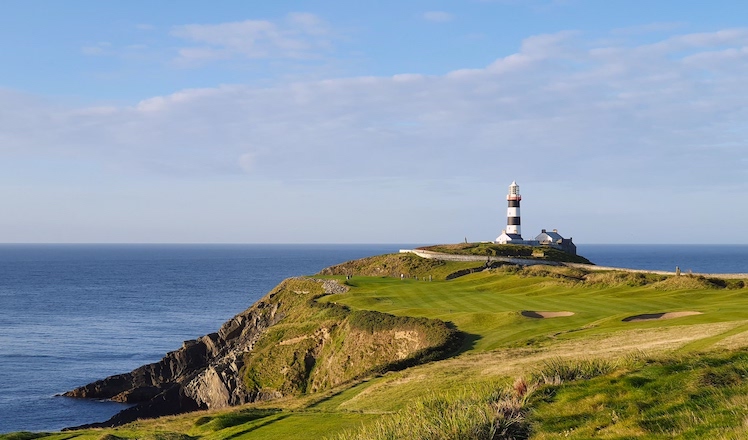 1. Golf Courses & the Weather!
When talking about the 5 Things to think about before booking a golf trip to Ireland. The first thing to do before booking a Golf trip is to pick out the courses that you would like to play. Please, think about a rest day in-between consecutive rounds. Also, ensure to research the distance between each Golf course because it is critical to avoid any long unnecessary long journeys (over three to five hours driving) between courses and hotels.
Also, to avoid any disappointment please book the Golf courses you want to play as soon as possible. Mainly, Golf courses like Royal County Down Golf Club and Royal Portrush Golf Club, Old Head, Royal Troon or the Old Course in St. Andrews are in higher demand year on year. Plus, may I suggest to start planning a golf trip to Ireland in March or April for the following year. Finally, I would recommend thinking about Golf vacations to St Andrews or a Scotland in January or February for the next year.
The Irish Weather
The weather in Ireland is as unpredictable, whereas one-minute golfers can enjoy beautiful sunny weather and wait five minutes for the drops of rain to start falling. Certainly, we recommend golfer to be prepared for any kind of weather and don't forget rainwear.
What are the seasons in Ireland?
Due to the geographical location, there are four seasons in Ireland. Winter, Spring, Summer and Autumn.
Winter – November to January

Spring – February to April

Summer – May to July

Autumn – August to October
The popular golfing seasons starts in April to October, but the best weather is during the summer between July and August. Also, both months tend to be the warmest months with long daylight hours. Golfing in May/June or September is all good, and sometimes the weather can be better in those months that August or July! So really weather changes!
What about Rainfall? 
We find that a lot of golfers believes the rain never stops in Ireland. However, this is not the case, two out of three hourly observations will not report any measurable rainfall according to the Irish Weather authority. Notably, April is the driest month across Ireland and the wettest months, are nationwide in December and January.
2. Hotel Standards
The hotel standards are identified from their star ranking. Yes, please be aware that there is a significant difference between a 3* to a 5* Hotels. Also, not all hotels regardless of their star rating will have air-conditioning rooms, and please check for Hotels with AC. Interestingly, it is worth noting that during the warmer months hotel rooms located on the ground floor are colder than rooms on the top floor.
Hotel pricing strategy; typically, a hotel will set the cost of a room by their star rating, location, season and room demand. Notably, most Hotels operate a dynamic pricing system, where prices go up as the room bookings increases. However, that is not always the case. Because, if Golfers book during a cultural event (sports, music, etc.) it is likely that room price will be higher than the usual seasonal dynamic rate. Therefore, my recommendation is to book early!
I would strongly encourage you to work with a Golf Tour Operator and discuss the Hotel location
for, accessing Golf courses, things to do, sightseeing and the quality of the Hotel beds. Because hotels are in the business of sleeping and I believe it is essential to talk about the quality of sleep at each hotel. Because we are told that a good night's sleep will help Golfers shoot lower scores.
3. Transport
It is also so important for the travelling group to charter comfortable transport. Also, ensure that there are more seats in the luxury coach or car than golfers. Not to mention, more room in the vehicle means more comfort for everyone. Ideally, request for the coach driver come tour guide! Because there is a massive added entertainment value to the trip if he/she is talking in-depth about areas where the group is located. Finally, the driver is great for quick problem solving as he/she knows just about everyone at the various golf courses, hotels and restaurants.
Dooley Noted on Transport
Each transport provider in Ireland under EU law and the UK can operate a large vehicle/bus/ coach for a total period of 9 hours with a break period for 30 minutes for every 4.5 hours of driving per day. Also, each driver is required to take 11 hours continuous rest period before starting up the coach the following day. You must be aware of the driver hours legislation when managing the Golf vacation's logistics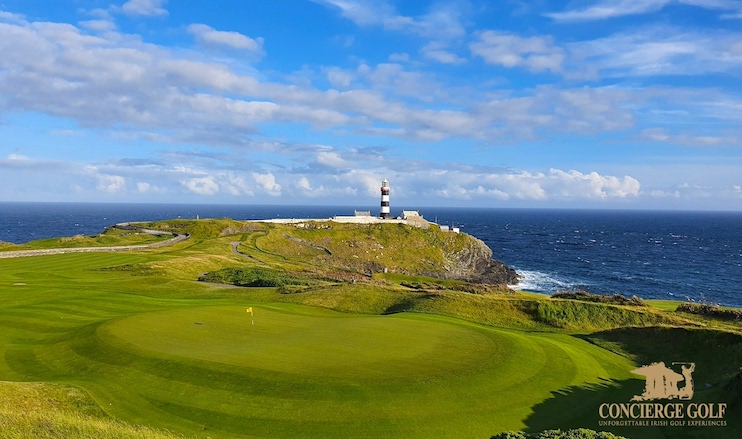 4. Sights to See and Things to Do
The Tour Operator's knowledge to identify things to do is as good if not better than most online resources. Mainly because they are dealing with their customer's feedback from the Tour Operator's recommendations, therefore, ask a Tour Operator or Concierge Golf Ireland, what are the top local sight to see and things to do?
Such as, if the group is located in Lahinch, Co. Clare. The location of the Cliffs of Moher are close to Lahinch Golf Club, and it is a quick trip North to see the Cliffs either before or after playing golf. Also, Waterville Golf Links is located on the Ring of Kerry sightseeing route and why not take the time to see the other half of the Ring of Kerry after playing golf at Waterville. One of Concierge Golf's top recommended Irish things to do is watch an Irish GAA Hurling or Football match live. Definitely not to be missed, full of atmosphere and the games are family-oriented
5. Restaurants
Since the mid naughties, the Irish food scene has exploded with great quality chefs and restaurants. There are a lot of great Irish restaurants to visit, in Dublin, Cork, Kerry, Clare, Galway, Adare, Belfast and the list goes on. Also, for Golfing groups of 4 or more, we would strongly suggest making dinner reservations at each location. Since we are restaurant experts at Concierge Golf, we use our knowledge to book and manage dinner reservations for our Golfers during their Concierge Golf Vacations.
Make That Booking!
The critical information for deciding to book a Golf trip as follows. Each Golf trip starts with paying deposits on booking a package for golf course tee times, hotels, and transport. Mainly, the deposits are required to pay Golf courses, Hotels, Transport to satisfy their terms and conditions. Please be aware that a lot of the upfront payments are non-refundable and non-exchangeable, which are the golf courses terms and conditions.  
Each service provider (Golf Courses, Hotels, Transport, and Sightseeing) operates with different terms and conditions. Also, depending on the service provider the remaining payments are scheduled at various times during the booking process. Typically, final payments for each of the service providers are expected between 20 to 90 days before they start a Golf vacation. Therefore, Golf Tour Operators will ask for the final payment from 30 to 45 days in advance of the trip. It might be easier to pay in full at the time of booking or pay in two instalments.
A Final Notice by Dooley Noted on 5 Things to think about before booking a golf trip to Ireland
Ensure that everyone in the group has their Travel Insurance policies and Passports up to date. Also, ask the doctor for copies of prescriptions in any case of misplacing any medications during a Golf Vacation.
A final note from John Dooley Concierge Golf Ireland
The job of the Golf Tour Operator (Concierge Golf Ireland) is to take care of all of the headaches and stress dealing with all the service providers to arrange a great golf trip. Concierge Golf ensures that all every single detail is dealt with for the benefit of our clients. By working with Concierge Golf, all that Golfers need to do is to be ready to play great golf courses daily. At Concierge Golf, we ensure every Golf trip is awesome and Golfers are left with memories for a lifetime.
Also, clunk on reading more on golf courses reviewed from 2019. 
Should you require any information on Golf trips to Ireland, Scotland or England, please contact John Dooley at Email: [email protected]  or Telephone our office international Ireland: +353 (21) 242-7913