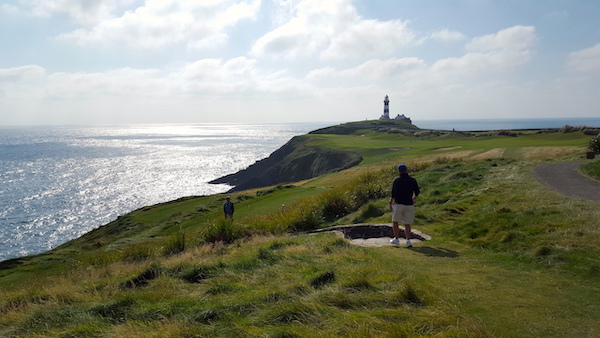 The Confidential Guide
Tom Doak's Confidential Guide to Golf Courses is probably one of the best golf course guides that I have read to date. Early versions of this book were difficult to source. However, in recent times, the confidential guide can be bought through normal book purchasing channels. Furthermore, a new version of his book is published in over five volumes.
A signed copy of volume III arrived recently into my brother's golf book collection, and he was kind enough to loan. After reading this book, it's evident how Doak is quite decisive to what courses he admires and how he describes the "soul of the golf course". Also, I found that this book great for light reading or an ideal gift for a special occasion. Notably, the book highlights the lesser-known golf courses and or the courses that you might not play. Indeed, you may also gather more insight into the service offered at the various golf courses.
Indeed, the original version was full of controversial remarks about the design of other golf courses! In saying that, one could use Doak's comments to start a healthy golf course debate. Such as his applauding comments about Shadow Creek in Las Vegas whereas throwing Heather Glen under the bus, calling it a grade 3 course. Notably, there are highlights to every golf course, but in Doak's view, there are some courses that are just naturally better than others. Tom is credited with designing golf courses as Pacific Dunes Oregon, Cape Kidnappers in New Zealand and the Renaissance Club in Scotland.
The Doak Scale
Doak's provides a scale for rating courses, and his information offers a ranking ranging from 0-10. Ranking 3 is average as he wants to distinguish between the better courses and not the lesser ones. The following is a description of Doak's course rating scale. Perhaps, this is a scale for you to use to further your appetite to greater identify with golf courses and their function and meaning to you! Golf courses are there to be played, but not necessarily to be accurately rated. However, a good course ranking system provides golfers with crucial decision-making insights into playing a golf course or not!
The Tom Doak Scale – from 0 to 10!
Noting a course so contrived and unnatural that it may poison your mind, one I cannot recommend under any circumstances. Reserved for courses that wasted ridiculous sums of money in their construction, and probably shouldn't have been built in the first place.
Golf courses that are basic with clear architectural malpractice and horrendous maintenance. Avoid even if you're desperate for a game.
Mediocre golf course with little or no architectural interest, but nothing horrible. As my friend Dave Richards summed up: "Play it in a scramble and drink a lot of beer."
About the level of the average golf course in the world. (Since Doak will not see average courses, his scale is deliberately skewed to split hairs among the good, the better and the best.)
A modestly exciting course, with a couple of distinctive holes among the 18, or at least some scenic interest and decent golf. Also, this ranking is for some excellent courses that are much too short and narrow to provide sufficient challenge for accomplished golfers.
Well above the average golf course, but the middle of my scale. A good course to choose if you're in the vicinity and looking for a game, but don't spend another day away from home to see it, unless your home is in Alaska.
An excellent course golf course to play and worth a game if you're in town. But, not necessarily worth a special trip to see and regardless the course shouldn't disappoint you.
An excellent course, worth checking out if you get anywhere within 100 miles. You can expect to find soundly designed exciting holes, good course conditioning, and a pretty looking location. Perhaps not necessarily adding anything unique to the world of golf.
One of the very best courses in its region (although there are more 8s in some places and none in others), and worth a special trip to see. Could have some drawbacks, but these will be spelt out, and it will make up for them with something extraordinary in addition to the excellent layout.
An outstanding course—certainly one of the best in the world—with no weaknesses regarding condition, length or poor holes. You should see this course sometime in your life. Nearly perfect; if you skipped even one hole, you would miss something worth seeing. If you haven't seen all the courses in this category, you don't know how good golf architecture can get. Call your travel agent—immediately.
Tom Doak on Course Lenght:
One of the categories for ranking is; how playable are golf courses for handicap golf and their driving distance? Sure golfers can't hit their tee shot over 220 yards. Therefore there is not much fun playing a golf course that requires some 265-yard tee shots to reach the fairway. As golfers can understand that some holes become too long to play. Therefore, play the length of the golf course that is challenging for golfers to enjoy.
Time of year:
While visiting private member's courses during the growing or peak season, golfers would undoubtedly expect to play a course in pretty excellent playing conditions. Whereas, playing public or semi-private golf courses a week or two before one of the club's significant yearly events. It's likely to find the course, in more adverse playing condition as the grounds team as working on specific.
Another example, August can be an exciting time of the year for golf course maintenance for golf courses in Ireland and Scotland. Furthermore, some golf courses punch, sand and over-seeding their green. This is a greenskeeper technique to avoid the soil compacted green otherwise resulting in growing grass problems. So! Golfers will lower his/her rating by on-going golf course maintenance that affects play on that day. Notably, the best time of the year to play in Ireland or Scotland is from May to the 1st week in August.
Tom Doak and The Weather:
Indeed, it is comparing apples to oranges playing golf on a perfect day versus a day full of winds and rain. Arguably, a golf course ranking report can be balanced by repeatedly playing a golf course until the golf course is accurately ranked. Understandably, the weather is the weather!
Golf Resort and Golf Club Services:
Identify each customer service available at that golf course or resort? What services were in use while visiting that course or resort? Measure the "Welcome" and accurately rate those experience? Such as caddy services and performance, golf range turf and range balls, current conditions of golf carts and on-course pathways. Tom Doak.
Indeed, it's about your experience, creating memories and enjoying golf! If Mr Doak's Scale is not for you, why not create your ranking or reference points system. The following information can provide you with a few starting ideas.
John Dooley PGA | Tom Doak's Confidential Guide to Golf Courses. An enjoyable read for all golfers. Email: [email protected]. CLICK here to contact us. Moreover, the following link is a list of the best golf courses to play in Ireland. CLICK HERE to read on.
Also, click on this link to learn more about Golf Links Courses in Ireland and Scotland.