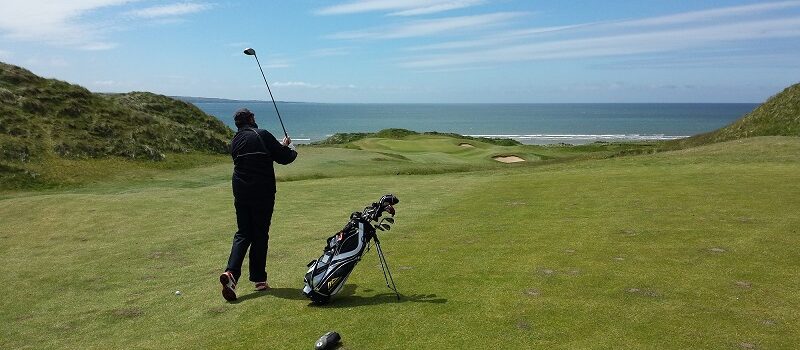 The following is information that patrons will find useful for the  Irish Open 2019 at Lahinch Golf Club. Essentially, we will update the golf event information as we received the info. Certainly, with a bit of luck the weather will be great.   
Irish Open Golf 2019 Information Update
Current Schedule of Events: 
2nd July Tue: European Tour Practice Round and doors open at (awaiting info)
3rd July Wed: Pro Am at Lahinch Golf Club and doors open at (awaiting info)
4th July Thur: Tournament Round at Lahinch and access start from (awaiting info)
5th July Fri: Round two at Lahinch Golf Club and access start from (awaiting info)
6th July Sat: Round Three at Lahinch Golf Club and tee times start from (awaiting info)
7th July Sun: Final Tournament Round and tee times start from (awaiting info)
Ticketing information: please click here, ensure that you only pay face value for the tickets. Unfortunately, there are other websites selling tickets higher than face value. 
Daily Tee times and Scoring information
Notably, the tee time and scoring information will be available closer to the start of the tournament.
Tee Times Day 1 
Day 1 Scores 
Tee Times Day 2 
Day 2 Scores 
Tee Times Day 3
Day 3 Scores 
Tee Times Day 4 
Day 4 Scores 
Please Click HERE to read more about Lahinch Golf Club. 
Parking and traffic information Irish Open 2019
Consequently, we are waiting for updated traffic information from the local authorities in Co. Clare.
Click Here to Contact Concierge Golf Ireland about golf holidays to Scotland or Ireland 2020. Furthermore, local businesses can enter a sponsored competition by Clare Council for the best dressed window. Click Here to enter the competition. 
Local Hotels and Guest House
Selected Hotels and Guest Houses in the west Clare Area:  
Armada Hotel, Spanish Point
Bunratty Castle Hotel
Bellbridge House Hotel, Spanish point hotel  
Dromoland Castle
Falls Hotel & Spa, Ennistymon
Gregans Castle
Morrisseys Bar & Restaurant, Doonbeg
Red Cliff House
Spanish Point House
The Inn at Dromoland
Trump Doonbeg
The Wild Honey Inn
The Lahinch Golf and Leisure Hotel
The Clare Inn
Vaughan Lodge, Lahinch
West County Hotel, Ennis
Selected Restaurants in West Clare
Morrisseys Bar & Restaurant, Doonbeg
Gregans Castle
Trump Doonbeg
The Wild Honey Inn
The Anchor Inn, Liscannor
The Cornerstone, Lahinch
The Atlantic Restaurant, Lahinch 
Gallaghers, Bunratty  
Irish Open 2019 Dos and Don'ts
Indeed, the event hosts would ask not patrons not to make picnics or picnic hampers, theses are strictly not allowed. Additionally, patrons would be asked to use mobile phones in the mobile dedicated areas and there will be  signage as "mobile phone zones". These are the area mobile phones are permitted for making and receiving calls. Notably, please keep mobile phones on silent mode at all times.
Also, patrons will not be allowed any cameras, computers and other electronic equipment at the Tournament.  Namely, Thursday to Sunday and, patrons can apply for such permissions. Unfortunately, making or distributing broadcasts, commentary, news reports, data, results or statistics by any means in any format or media including any such by mobile phone or other wireless devices are not permitted.
Please read the terms and conditions before buying tickets and learn about patron's requested consent for photography, filmed and recorded at the Tournament. The event organisers would ask that no dogs (other than guide dogs) or other animals are permitted on to the course.
Finally, please comply with all relevant statutes, signs, safety announcements, directions of the stewards and safety requests. Please avoid any unacceptable and anti social behaviour likely to cause damage, nuisance to patrons and players, or injury may result in been ejected from the even.
Click Here to read more about Concierge Golf's fun Dos and Don'ts