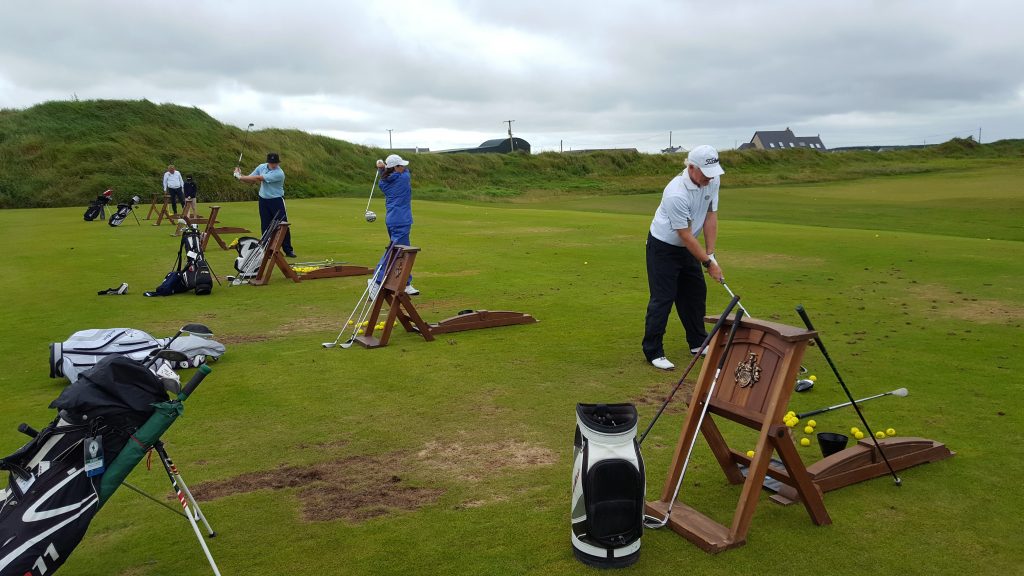 An explanation into Ireland Golf Trips Couples 2022

The following information is a guide to understanding how Concierge Golf Ireland manages Ireland Golf Trips Couples. Concierge Golf will explain how the trip is built and the costs associated with the golf vacation. 
Concierge Golf Ireland
What we do at Concierge Golf Ireland (CGI) is to manage the whole booking and customer service experience for golf vacations to Ireland, Scotland or England. 
Starting with the first question to ask yourself, "what should we do to book a golf trip to Ireland"? Initially, CGI will ask the following questions:
What is your budget? Example $10,000 or $26,000

How many nights in Ireland would you like to spend?

List all the golf courses you would like to play?

What standard of hotels would you prefer (4* or 5*)?

Would you prefer to travel by self-drive rental car, or by private vehicle or by helicopter?

Are there sights to see and places that you would like to visit along the way?

Is there a special occasion that you would like to celebrate? 
Notably, the central parts of the trip to consider are how many golf courses to play. Also, how many nights in Ireland and how you would like to travel? That said, ask yourself, are there more things you want to do daily? 
Would you like to see as much as possible? Therefore, it will be recommended playing golf early morning and tour in the afternoon. 

Or would you like to play golf and enjoy the spa for the afternoon? 

Perhaps, the group would play golf early and make up the rest of the trip as you travel along?

Mainly, what CGI needs to know is what can be done to make the trip the most enjoyable trip possible?
Tips for planning; good planning takes time
As mentioned, the core golf trip is built into three main parts:
Golf Courses to play.

Transport to get around.

What standard of accommodation would you prefer?
The following notes are insights into each of those components. Notably, how the golf package is put together and what are your expectations from working with Concierge Golf on an Ireland Golf Trip.
Tee times Notes: 
Golf tee times at golf courses. The demand for golf tee times depends on the golf course and the time of year. Some Irish Links courses may only offer tee times mid-week. Whereas other courses may offer tee times 7 days a week. CGI will plan the group logistics as part of our service. 
Transport Notes:
Ireland is not at all a big country compared to most other countries; however, getting around by can rental is challenging. Yes, there are a lot of things to do in Ireland and getting around to see interesting sites can be challenging to do due to the narrow roads and traffic at peak time. Indeed, using a driver is by far the safer option compared to a rental car. Mainly, because there is less stress navigating the narrow roadways and if you like a drink, you have the freedom to enjoy a drink after golf without the problem of driving.  
Also, the drivers are good fun and certainly entertaining. The guys and girls are full of interesting conversations and provide an excellent service on demand. An important note summarised, EU law requires that a driver may only work a 9 hour day from the moment the car starts that day. Finally, EU law requires that the driver must have a minimum 13 hour rest period between the car stopping for the day and restarting the following day. 
Hotels Notes: 
Hotel standards vary from location to location. The beds are a smaller size in Ireland and Scotland compared to the typical bed size in USA hotels.  After sending your information to Concierge Golf, the next step is CGI would put together a proposed itinerary for you to review.    
Couples Golf Reviewing the itinerary: 
One of the best ways to review the itinerary for Ireland Golf Trips Couples is to identify what you like about the itinerary and what can be added to maximising enjoyment! Then schedule a call with CGI to discuss the whole itinerary and work out what would make the trip incredibly memorable.  
We can discuss anything from helicopter sightseeing trips to the Aran Islands and the Cliffs of Moher, to extra tee times, hill walking, investigating the family tree, horse riding and cross country trekking. Also, a special surprise party for your loved one or a special group historical presentation to mention a few more ideas.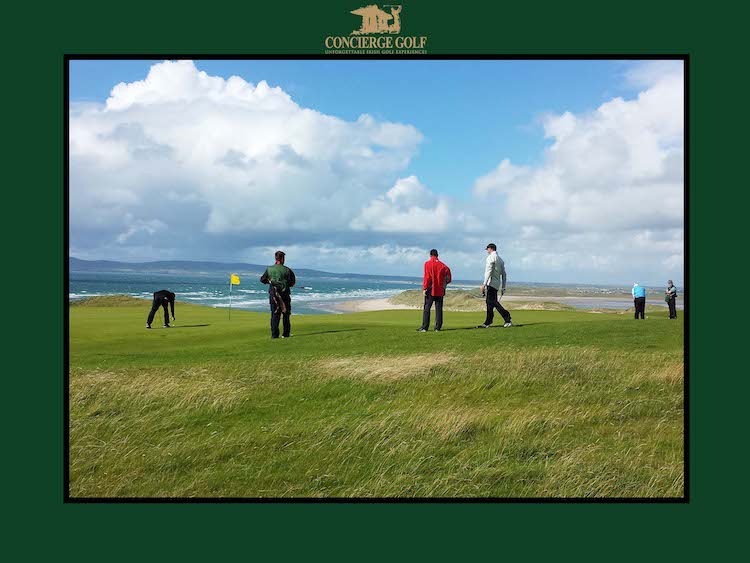 The Costs of the Golf Trip Explained
The main cost to a golf operator is the cost of time. Each golf itinerary can take anything from 4 to 12 hours of working time to create. Also, the time taken redrafting a series of itineraries can be an additional 12 to 72 hours. Notable at CGI we ensure ample time is taken to be sure that the logistics of the trip will work correctly to suit all the requirements. There are four main cost topics explained, Tee Times, Transportation, Hotels and Tour Operators. 
Currency in Ireland
I am sure you are aware that there are two counties on the Island of Ireland and one part of Ireland, the Republic of Ireland uses the currency Euro and in Northern Ireland which is part of the UK use the Pound Sterling. It is just as easy to use the cash machines for currency for cash purposes for caddies and so on. That said, you can use credit cards just about anywhere, Mastercard and Visa are the most commonly accepted payment methods, some restaurants may not accept Amex or Diners Club credit cards. 
Tee Times Costs
The cost of tee times will depend on the golf courses booked. Mainly, the cost of a round of golf per person can be as high as €375 (Euro) per golfer for Old Head Golf Links, €250 (Euro) per golfer for Ballybunion, Lahinch and Tralee Golf Club. Whereas courses like Carne Golf Links €120 (Euro), Enniscrone Golf Links €145 (Euro), Donegal Golf Club €130 (Euro). Portmarnock Golf Club ranges from €250 – €275 (Euro), Royal Dublin Golf Club €160 – €185 and The Island Golf Club €165 – €185 (Euro) per golfer. Finally, the cost at Royal County Down Golf Club £270 (UK Pounds), Portrush Golf Club £240 ( UK Pounds) and Portstewart Golf Club £195 (UK Pounds) per golfer. (please note pricing based on 2021 costs)
Notably, the cost of golf can be further examined by region. Such as the cost for golf rounds in the West & Northwest are more economical than South, West or East of Ireland. Also, the popular courses from Royal County Down Golf Club, Royal Portrush are Northern Ireland, Ballybunion, Old Head Golf Links are Southern Ireland and Portmarnock Golf Club, The Island are East of Ireland are the higher-priced links courses compare to the cost to play at Carne Golf Links, Enniscrone, Donegal or Rosapenna. 
Transportation costs
One of the largest singles costs for couples is the cost of private car transportation. The cost for the chauffeur-driven option can be from €450 to €600 (Euro) a day. The daily costs for a driver are broken into the cost of the car for the duration of the couples vacation, the car mileage and the driver's daily payment. Also, there are fixed expenses for the driver's hotel rooms and daily meals. Whereas the rental car is far more economical when comparing the rental car option to the driver. A car rental company can charge anything from 40 euro a day depending on the car type and insurance costs. 
Cost of Hotels
Not unlike any other city or town. Hotels charge various pricing depending on the hotel type, services, the location and demand. Four-star hotels can cost from €140 to €280 a night per room and breakfast included. Notable, Five Star Hotels can range from €280 to €700 and more a night depending on location and room type. Notably, Adare Manor Resort can cost from €600 to €900 (Euro) per standard room per night compared with the Europe Hotel in Killarney around €240 to €500 (Euro) per night. 
Tour Operator Pricing
Typically, each golf trip what CGI arranges is different, because the customer requests and requirements change from group to group. Therefore, each golf trip is priced differently as the price depends on what type of transport, the golf courses played, how many days and nights in Ireland and what Hotel standards are selected. Also, seasonality will affect the cost of rooms and golf courses mainly. Thus, golf trips in April and at the end of October will be more economical than May, June, July, August and September. 
Indeed, there are three main separate costs, golf tee times, hotel rooms and transport associated with golf travel packages. The total costs are calculated with a service margin from 10% – 15% attached to that amount. The margin reflects the services, the time available to the customer, business costs, insurance costs, sending and receiving money and total administration time spent. Notably, there is a large amount of working time spent by Tour Operators creating custom itineraries, such as making & remaking various bookings and making the payments as they fall due for all the services attached to the golf trip. Some golf courses offer most tour operator discounts than others, and other courses do not offer any discounts. Similar to transport, depending on business volume tour operators may have preferred rates than what.
Main Benefits of employing a Golf Tour Operator
The main benefits to using Concierge Golf Ireland a Golf Tour Operator: 
Saves you a lot of time researching how to book tee times, hotels and which is the best transport company to use. 

The Tour operator will only use the best quotes for the best services requested.  


Ensuring that all the customer costs are value for money from the various services been offered.

 Also, it can take a lot of time to understand the payment terms and conditions for each golf course, hotel and transport company. 

Trying to find the best car services to suit all the requirements is very challenging and time-consuming. 

 CGI will only use the best transport providers for golf vacations. 

Many costly mistakes are made, and after paying deposits, you might not be able to get that deposit money back if changes are needed or if you need to cancel. 

The time it will take to plan and re-plan until the itinerary is correct. 

CGI will plan out any extra things to do for golfers and non-golfers.
The Non golfers will be able to work with CGI to plan out other specific things to do. Such as SPA breaks, sights to see and so on.
All the dining and touring reservations will be arranged and managed for the couple.
Couples Golf, Self-booking worst scenario
The worst situation for golfers that self-book a golf trip is to find out at the last minute that a booking was made for the wrong dates. Then they cannot contact the service provider to adjust the bookings without price penalties. Also, the scenario where golf courses are fully booked, and there is not a tee time left. Sadly, I have had golfers call me, asking for help after finding out they made a major booking error and more times than not there was nothing that could be done. CGI manages golf vacations using the best service providers to meet your expectations and value for money. It is just about impossible for self-booking golfers to know if they are getting value for money unless they have the necessary previous experience.  
CGI has an inside track record and knowledge of golf courses, hotels and transport for Irish golf vacations. As mentioned, you could spend a few weeks investigating golf vacations and become frustrated with golf clubs, hotels and transport company not satisfactorily answering your questions. The other great point to make is that our customer services are contactable 24 hours a day. Therefore, we can solve problems quickly should any unforeseen issues arise during the trip. Plus CGI will do any and all the leg work ensuring that that the issue is solved.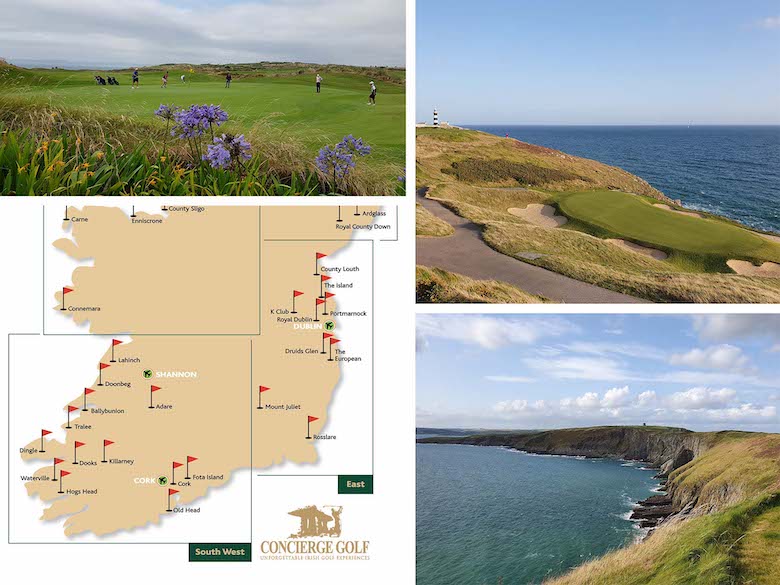 Comparing the costs of Ireland Golf Trips Couples
Southwest Ireland Breakdown

Starting with a seven-night stay in Ireland in a 5* hotel and you are playing the top golf links courses in the Southwest of Ireland and with a driver will cost approximately: $7000 per person or $14,000 per couple. The costs are calculated based on two golfers playing golf at Lahinch, Ballybunion, Tralee, Doonbeg, Adare Manor Resort, Waterville Golf Links and Old Head Golf Links. The couples are sharing a room at the Adare Manor Resort, The Europe Hotel in Killarney, and Doonbeg and a car for two people for airport transfers with daily transfers to and from the golf courses. Also, within the cost of transport, there is time for visiting sites to see along the way.  
Estimated Cost breakdown in US Dollars: 
Golf Courses: $2600 x 2 player = $5200

Hotels: $3400

Transportation: $5400 

Total: $14000
Northwest of Ireland Breakdown

Whereas the cost for a seven-night stay in 4* hotels playing the best Irish golf links courses in the West and North West of Ireland and a standard automatic rental car, the cost is approximate: $2350 per person. 
The total costs are the sum of two golfers playing golf at Carne Golf Links, Enniscrone, Co. Sligo Golf Club, Donegal Golf Club, Narin & Portnoo Golf Club with both courses at Rosapenna Golf Resort. Also, the costs include staying at four-star hotels in Sligo and Donegal with a self-driving rental car for seven-days hire.  
Estimated Cost breakdown in US Dollars: 
Golf Courses: $1220 x 2 players = $2440

Hotels: $1400

Transportation: $860 

Total: $4700
Taking the example of two different golfing destinations. Indeed, there is a significant cost saving between the West and Northwest of Ireland compared to the Southwest of Ireland. Therefore, the location depends on where you would like to play golf. Also, Price/location is the same in Scotland, the prices are dictated by what people are willing to pay for that experience and considering the Ireland Golf Trips Couples. 
Dooley Noted, The last word on Ireland Golf trips for Couples
Please feel free to ask if you have any questions or comments based on the information provided. I hope that the content gave you more insight into the planning and structure of a golf trip to Ireland. Please, trust in that a wonderful golf experience awaits you in Ireland or Scotland and feel free to contact Concierge Golf Ireland your information. Then right away, we can start the process to arrange your very own special Irish Golf Vacation today. 
Finally, CGI ensures that all quotes received include all, costs, taxes and charges. We have no extras or hiding costs to add onto a trip once the costs are agreed upon. 
Contact: [email protected] | Office Tel: +353212427913 | Click on the  Contact US page