Ireland Golf and Sightseeing Tours, Fun!
What consists of an excellent Ireland Golf Sightseeing Tour? I would say, play golf early morning and enjoy sightseeing in the afternoon. Also, comfortable transport is essential for either self-driving car rental or chauffeured driven private car. Also, enjoy luxurious accommodations and dine at excellent restaurants.
Indeed, planning out a golf and sightseeing tour of Ireland will take time and expertise to ensure that all the areas to visit are you need a lot of spare time and expert knowledge to arrange the best experiences. The knowledge is knowing where to go, how to book, organise and manage the itinerary correctly. Certainly, working time is needed to ensure that nothing missing and zero mistakes.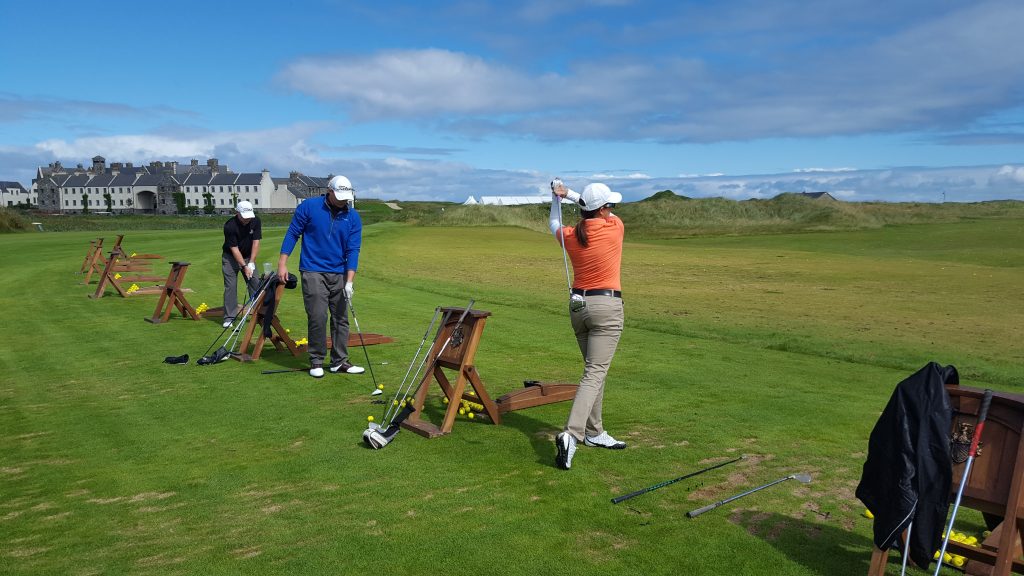 At Concierge Golf Ireland we manage the whole booking process for each item booked from start to finish for each of our customer's itineraries. Yes, each itinerary created shows the various tee times, hotels rooms, transport, where to dine and what to see.  Namely, each Irish or international golf tour designed is 100% customised to the customer's requirement. Such as, where to play golf, the type of hotel standard and room type, the style of restaurants, what are the sights to see and good fun things to do. Concierge Golf  Ireland (CGI) is your professional & friendly full-service golf tour operator.
The following content is providing information to help along the process of travelling to Ireland for golf and sightseeing experiences.
Where to play Golf:
Essentially, decide the number of and what golf courses to play. CGI will take care of booking and managing the tee times process from start to finish. Notably, paying the deposits on time, ensuring the tee times are correct and pay the remaining amounts by the terms and conditions at each golf club. It's important to point out that CGI is bound to the terms and conditions of each golf course we work with on our customer's behalf.
To highlight the terms and conditions for most golf courses. Notably, golf courses either require full payment up front, or a percentage deposit on booking with the remaining amount required three months or two weeks before play. We find groups that book their golf trips run into difficulties when someone forgets to pay on time or book to play the course on the wrong date! That's a shocker, but it happens!
Where to stay:
Choosing a hotel is not just about the price, but, consider both price and location. There is nothing more irritating than a hotel charging an arm and a leg for the location with substandard rooms, average breakfast, room floors not cleaned and polished correctly.
Indeed, the task of selecting the right hotels is never easy; however, from our experiences, we only work with hotels that provide excellent services. Also, we visit our partner hotels on regular bases to review the rooms, food and service standards. Notably, we are selecting hotels to suit our customer's needs and requirements.
Where to dine:
Dining out and about is very easy in Dublin, Cork, Clare, Kerry and Galway. Each town is full of beautiful restaurants, and there are so many to pick. At CGI we are up to date on the named restaurants for excellent food and service around Ireland.
What type of foods do you like? Also, what kinds of food do you not like? Would you like to try the local fresh produce? Yes, all the restaurant types that we recommended are using in seasons and fresh local ingredients with their menus.  The types of eateries that you will find in Ireland are fine dining Michelin restaurants along with other standards of Michelin awarded restaurants. Mostly Irish restaurants are casual style dining, brasserie restaurants, gastropubs, pub grub, sandwich bars & cafes and if you are stuck, the chipper!!! But, why not visit Ireland and see for yourself.
What to see:
Where to start! Ireland from Dublin to Rosslare, stop at the Famine ship memorial and then to Cork to see Blarney Castle and perhaps kiss the Blarney Stone. Drive the Ring of Kerry then along the Wild Atlantic Way to Lahinch to spot the Cliffs of Moher. Keep the Wild Atlantic Way on your left and drive along the Burren to Galway, through Connemara up to Belmullet. Making your way along to Sligo and onto the Inishowen Peninsula. Take the car ferry at Greencastle to Magilligan point ferry crossing onto The Giants Causeway. Stop for a whiskey Tasting at Bushmills and around the Antrim coastline into Belfast. Now the last leg of the whirlwind car trip; take in the Mourne Mountains as you motor your way to the Boyne Valley. Take in Newgrange, Adree Castle, then Dublin again. Fly home!
Within the above paragraph, there is so so so so much to see and experience in the various parts of Ireland. I have not even scratched the surface identifying most beautiful and rugged parts of the wild Irish countryside. What we do; is to investigate where and what you would like to see and do! The natural element is we supply a lost list of places to see and things to do. From there, let's chat and form a plan! Not forgetting to point out sporting and music events happening during your trip.
What makes an Irish golf and sightseeing tour special?
What is your occasion?
Special, memorable golf trips can come under many headings. Identify the type of trip, such as the ultimate bucket list golf tour, father and sons or son, mother and daughters, family, friends, school reunions, golf club golf trip, company, the girls and boys golf trips? These are various types of golf experiences that are specific to you for that trip.  The size of the group is essential and too many cooks will spoil the dish!
After picking your type of golf trip and the main reasons for travelling are established. Identify the golf courses that the group would like to play. Notwithstanding, don't forget to plan for extra fun activities around the golf courses and hotel locations. For example, for non-golfers, the trip will require additional activities for non-golfers that are travelling on the trip. Compile, a list of things to do and things to see when the golfers are on the links. Finally, always plan for a fun night for the last night!
Great Self-Planning tips:
A great golf trip experience doesn't just happen by chance; people plan and work on creating Ireland Golf Sightseeing Tours. Notably, an easy saving money tip, do watch your airline tickets. Certainly, buy your airline tickets early, save money and don't leave it to the last minute. Also, sign up for travel updates on various travel apps or websites like Skyscanner or Scott's cheap tickets. However, do purchase early to be sure of a flight, but you could risk waiting a couple of months in advance to find deals. However, that strategy may end up with centre row seat and longer flight routes.
Necessarily, if you are booking the trip by yourself? Please identify the travel time takes from point a to point b. Notably, using google maps to estimate the travel times from your selected accommodation to the golf courses. Sometimes, the vehicle size might be tight on space and may I suggest to hire the larger vehicle as luggage space is vital to the sanity of your fellow travellers.
Sometimes, the vehicle size might be tight on space and may I suggest to hire the larger vehicle as luggage space is vital to the sanity of your fellow travellers. Also, consider buying excess car insurance before you travel. Additionally, do check with your car insurance provider that you might be covered for car rentals in Ireland or Scotland.
Weather… Clearly, it is impossible to predict which month will be the best month to play golf. However, May to September can be great! Pick a time to go that suits everyone or the majority of the group. Send a weather note to the group the week before you are scheduled to depart.
Special occasions; do plan for indoor activities as one can never trust the Irish or Scottish Weather for outdoor events. Finally, planning takes time and be prepared to put in the time and effort to locate the best things to do.
Golf Courses:
Please note that you may need to consider booking golf courses 8 to 16 months in advance to secure the best tee times. Some of the top golf courses that you would like to play are likely to be booked up as early as May to July of the previous year.
When you are creating your golf course route plan, allow plenty of travel time for the group to drive or be driven from your accommodation to the various golf courses. I would recommend that you could plan on dining approximately 5 to 6.30 hours after your tee time. You might like to spend a bit more time in the 19th hole before rushing away! Pick earlier tee times were possible, and avoid the midday rush. (Between 8 am – 10 am are typically the better times to play) Also, early tee times means that you will make dinner at a reasonable time.
Accommodation & Hotels:
The size of the group and the type of accommodation is very importation.  Smaller groups of two might like the idea of a county house bed and breakfast style. Whereas, large groups of couples would be suited to hotels. Also, it's worth noting that Country houses, B&Bs tend to offer more cultural experience than hotels.
Notably, for a large family gathering; why not rent a Manor House for 16 – 40 persons with an onsite farm and vegetable garden. Enjoy on-call chefs, cleaning services, transportation, golf, equestrian and much much more. The primary key to selecting suitable accommodation is nothing more than friendly hospitality. I understand that price is essential within the decision-making process. However, excellent services is a must.
Dooley Noted Finally!
What makes a great trip unique is excellent planning, and everyone is on the same page. Ensuring that each service that is booked correctly check and trebled check that all is ok. Don't leave any question to chance. I have mapped out the various sightseeing and golf tours that I have arranged. From my experiences, an excellent Ireland Golf Sightseeing Tour takes approx 60 to 90 hours to plan and arrange.
Understandably, planning a golf tour takes time, and we try to keep the time closer to 40 to 60 hours. Notwithstanding researching all the essential details of what to do when the guys & girls are out golfing and so on. Ireland is big and full of things to do for a small country.
If you need any advice on how to ensure you don't miss any of the finer points of making a great golf & sightseeing tour even better? Contact us today to start the conversation about your next golf trip to Ireland or Scotland.
John Dooley PGA | Concierge Golf Ireland | Ireland Golf Sightseeing Tours
Email: [email protected] | Web: www.conciergegolfireland.com | Tel: +353 21 2427913
Concierge Golf Ireland arranging and managing Ireland Golf Sightseeing Tours.