Claremont Country Club
I played at Claremont Country Club recently in an invitational golf tournament called the Rix. It was a really enjoyable golf event, where teams of two players play five nine-hole match play games within their flight or handicap category. Indeed, the team with the most points won from each flight will progress to the playoff.
The playoff was great entertainment. The format is straight foursomes and typically since nobody really plays that format too often, anything can happen. Also, to make the course even more difficult to play, the greens are rolled again and new holes are cut in very tricky areas. So much so, that players can four-putt easily and I do recall watching a couple of players taking eight putts to get the ball in the hole. Anyhow, poor me, my team did not make the playoffs!
Eight teams of two played the 1st hole, then over to the 8th hole were five teams played and finally, three teams progressed to the final playoff hole, the 18th. Amazingly, two teams that progressed were from highest handicap flights (7&8) along with the winners from the lowest handicap flight played the final hole. Clearly, each of the teams were made of good old hard grit and they all tied the 18th. The final playoff was a 110-yard made-up par three from the 9th fairway hitting to the 18th green. Each team hit, the crowd were gathered around the 18th green and they cheered loudly as two shots almost hit the green and finally one ball hit the green.
The honour when to the top team as they made an excellent birdie to win the Rix for 2018. Great fun had by all and definitely, this event is on my scorecard for 2019.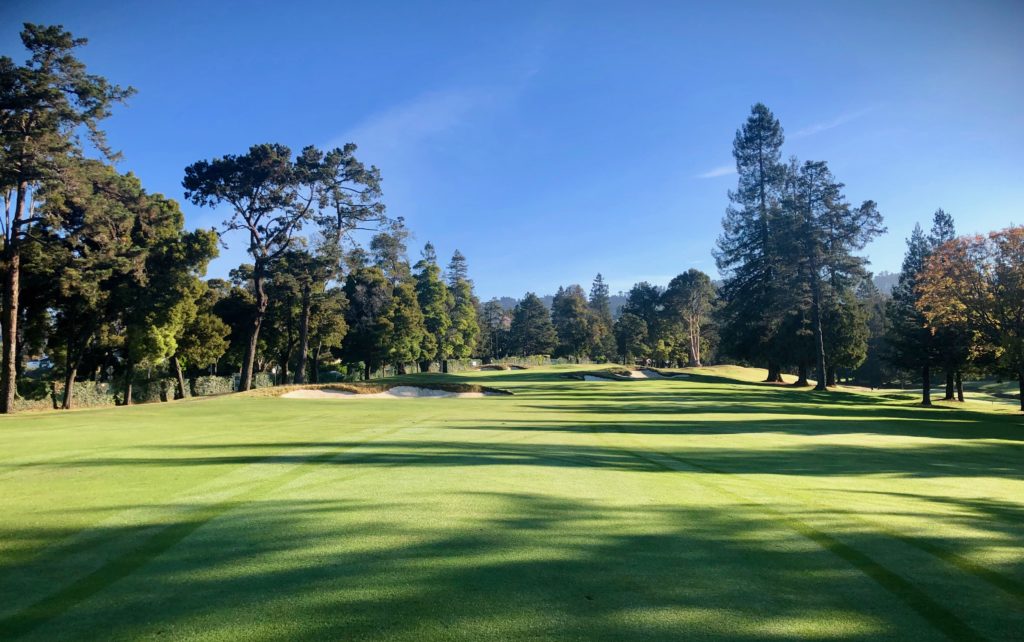 The Course at Claremont County Club
However, the course measures less than 5,800 yards from the back tees. Certainly, looking at the length of the course, it is easy to think that this course plays dead easy! However, that is not the case and far from easy! In the spirit of Alister Mackenzie, the club has completed numerous on-course redesigned work ensuring that the course remains as close as possible to the original design by Dr Alister Mackenzie Course.