Where to play golf in Ireland 2020
Where to play in 2020? The follow golf Itinerary is for an Irish Golf Tour 2020 and I have used the most requested golf courses from 2019 that are likely to be available from October 2019 to book — noting that Royal Portrush Golf Club and Royal County Down Golf Courses are almost booked up for 2020!
Indeed, from a general interest point of view. The Irish Golf Links courses enjoyed another hectic year for 2019. Notably, that the Irish Open was hosted at Lahinch Golf Club, the whole club and town of Lahinch did an excellent job organizing the event. Shane Lowery won the British Open at Royal Portrush Golf Club, and Portrush is crazy busy for 2020. 
Whereas, the Old Head Golf Links topped the Irish Golfing Experience list and the course played great thought out the year to date. Mainly, the Old Course at Ballybunion was voted highly, and Hogs Head Golf Club was enjoyed by a several of Concierge Golf travellers for 2019. But, lots of golf to be played in 2020!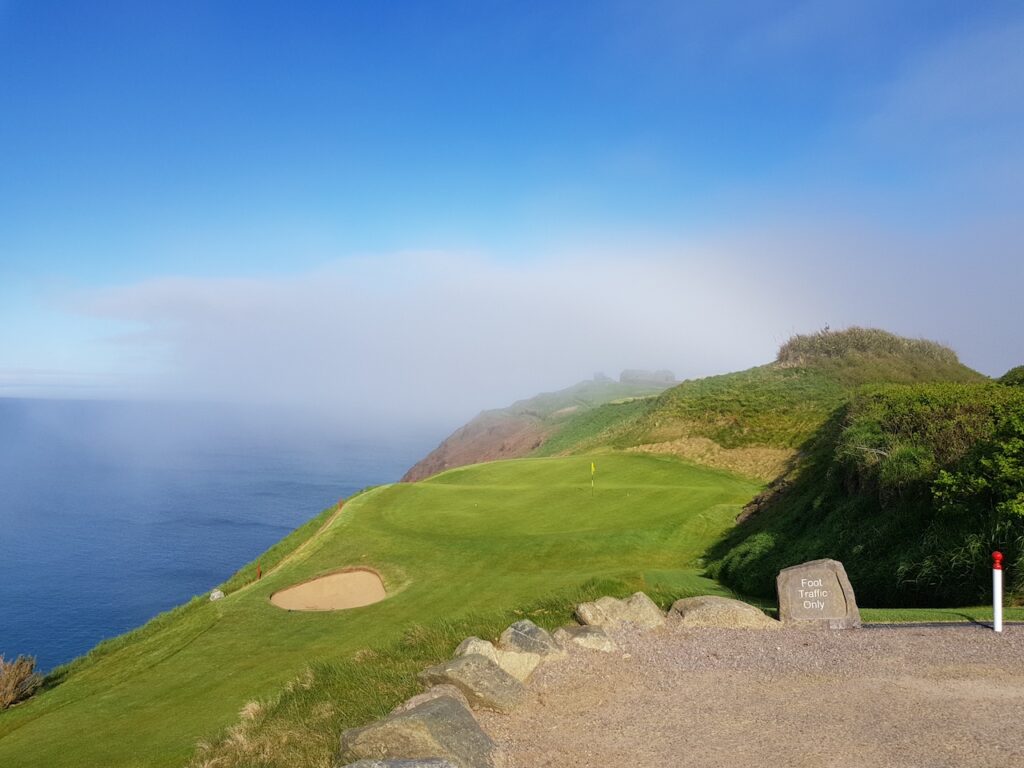 Irish Golf Tour 2020
---
Golfers can use either Dublin or Shannon airport for incoming and outgoing flights to play golf in the Southwest of Ireland. However, Dublin aiport is suggested for the following itinerary.
| | |
| --- | --- |
| 1st Day | Killeen Castle Golf Club |
| 2nd Day | Portmarnock Golf Club |
| 3rd Day | Tralee Golf Club |
| 4th Day | Old Head Golf Links |
| 5th Day | Waterville Golf Links & Hogs Head Golf Club |
| 6th Day | Ballybunion Golf Club |
| 7th Day | Lahinch Golf Club |
| 8th Day | Depart |
| | |
| Accommodation  | Hotel / Guesthouse Locations |
| 1st Night – Night 2 | Dublin |
| 2nd Night – Night 6 | Killarney |
| 6th Night – Night 7 | Lahinch |
| Final Night – Day 8 | Dublin |
| | |
| Transport  | |
| | Daily transport from Hotels to golf courses |
| | Two group airport transfers |
| | Travel in a luxury bus suited to the number |
| | of travellers |
| | |
| Concierge Services  | |
| | 24 Hour full customer services |
| | Manage dinner reservations |
| | Arrange things to do |
| |  Sporting and event planning |
| | |
| Pricing  | Starting from €2950.00 per person |
| | Includes tee times, hotels, transport, taxes and charges |
| | Base on eight golfers travelling |
| | Please note Terms and Conditions will apply |
| | |
---
Dooley Noted | Irish Golf Tour Notes
Notably, Concierge Golf carefully plans each golf tour, ensuring golfers will enjoy a tremendous Irish Golfing Vacation. Essentially, golfers will enjoy Ireland is so many different ways. Ultimately, travelling to Ireland, playing great Irish Golf Links Courses and the fun-loving Irish culture.
There is so much to discover on a golf trip to Ireland, such as collecting a host of believable caddie stories. Locating the best bowl of chowder, fine dining and listing to traditional Irish musicians. Perhaps, golfers can time their trip to watch a live hurling or Irish Football game. Or golfer can merely enjoy fun in Temple bar or bars to discover a subsection of the Irish Culture. Trust me there is a very long list of pubs to visit and cultural things to do. 
Enjoying Irish Golf is easy. Arrive at the golf course on time and meet the Irish caddie requested. Hit golf balls on the range to warm up the golf swing. Followed by practising a few putts, chip a few and head for the 1st tee. Tee up the ball, but do ask you caddie which direction should you aim and have they good eyesight?
For more information about how to book a dream Irish Golf Vacation? Please contact us at info@conciergegolfireland.com or CLICK HERE to be directed to the booking web page. Click here to view more information about golf tour operators to Ireland for 2020.
Click Here to view an article about how to plan a golf tour.
Click here to read about Irish Golf course Historical Golf Courses.
Notably, Concierge Golf will be at the end of this phone line +353212427913.
---