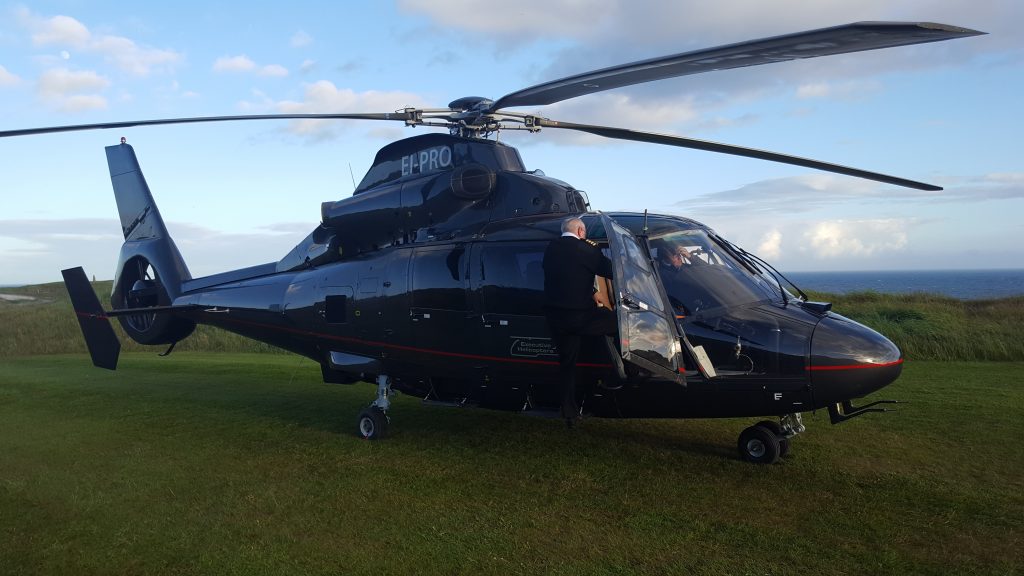 Irish Golf Helicopters
Particularly Concierge Golf Ireland recommends using helicopters to save time on the Irish roads. Also, using helicopters will enable the group to play all the great Irish golf courses whilst using one golf resort or hotel as the base camp. Irish Golf Helicopters.
Without picking one resort in particular for the best location for an Irish Golf  Vacation by helicopter. May I suggest qualifying the property to meet the following list of standards:
Choosing a location | 10 Hotel Standards
Location to Airport within 45 minutes drive time or less than 30 minutes by helicopter
Client rooms size are bigger than 900 sq foot
Full dinner services available up to 10-pm
Private dining and event services to cater for special occasions and for last minute parties
Flexible & responsive customer services to the needs of the clients
Landing zones within 150 yards of the resort entrance.
Spa and massage services. However, in the event of spa services been booked out, the resort offers suite massage services
Sizeable golf range and within walking distance of the resort
Full golf shop services with a range of premium golf brands for sales
Should there be a weather problem that cancels the flight? The resort to provide tee times to play for the stranded golfers.
All things considered, Trump Doonbeg, Druids Glen Resort, and the K-Club are good Golf Resorts ticking the majority of the points listed.
Contact us:
Concierge Golf Ireland provides booking and management services for every type of Helicopter and golfing occasion. Certainly, we provide the best customer services enabling the group to enjoy Ireland and not have to worry about what they need to do next! Contact US WEB LINK just click
Email: info@conciergegolfireland.com| Tel: +353212427913 | Heli Golf Ireland |
Helicopters Golf Ireland with Concierge Golf Ireland.