Fathers Day Golf Ireland 2021
Fathers Day golf in Ireland is time well spent with Dad or for Dad and his family! Without a doubt, the Irish culture is the friendliest in the world! Certainly, we can recommend Ireland is one of the best countries for one of the best Father and son golf trip. Such as, playing golf all day and relaxing in the evening with the easy-going Irish hospitality. Notably, you will find that the Irish culture goes far and beyond the call of duty helping visitors to feel most welcome to the Irish Isle. 
Without questions, to compare Ireland and Scotland for a fathers day golf trip. We would suggest booking that golf trip to Ireland for one hell of a bucket list father and son golf vacation.  Indeed, not every family is set with four golfers. However, no matter how many golfers, consider playing seven rounds of golf in one of the four suggested areas.
Such as; around Dublin and the East of Ireland, the Southwest of Ireland, Northern Ireland and the Northwest of Ireland. Mainly, I have picked these four areas as they are packed with all the famous Irish Golf Courses to play. 
Additionally, our Concierge Golf services manage all parts of an Irish golf trip. Which includes booking, scheduling and payment for transport, tee times, hotels, things to do and dining reservations. However, one of the superb treats is adding helicopter transfers to and from a couple of courses to save a long car trip! Especially flying into and out of the Old Head Golf Links. 
Creating Memories for a lifetime
An Irish golf trip is ideal for creating memories and collecting those memories is a lot easier with the help of the trusty phone! Essentially, save each moment by taking pictures everywhere for the lifetime of memories of each golf course played. Additionally, dining together, a few pints in the pub and any other fun stuff that happens!
Ah, why not find an artist to draw a caricature of the family at the golf course, on the bus, at dinner or in the pub? Conversely, the trip is about making memories for a lifetime to share with the next generation of sons becoming fathers!
The Golf Course Line Up
Ideally, arriving at Dublin or Shannon airport on a Saturday morning and it's a perfect day to start. Then, right off the plane play your first course and stay up as long as you can to help get your body on local time. Notably, the following locations and golf courses for a great eight-day golf trip to Ireland. 
East of Ireland
D1 Druids Glen Golf Club
D2 Portmarnock Golf Club
D3 County Louth Golf Club
D4 Royal County Down Golf Club
D5 Royal Portrush Golf Club
D6 The Island Golf Club
D7 The European Club
Depart
Southwest Ireland
D1 Lahinch Golf Club 
D2 Doonbeg Golf Links
D3 Tralee Golf Club
D4 Old Head Golf Links
D5 Cork Golf Club 
D6 Waterville Golf Links
D7 Ballybunion Golf Club (Old Courses) 
Depart 
Northern Ireland
D1 Royal County Down 
D2 Royal Belfast Golf Club 
D3 Ardglass Golf Club 
D4 Portstewart Golf Club
D5 Royal Portrush Golf Club 
D6 Castlerock Golf Club 
D7 Malone Golf Club 
Depart
Northwest Ireland
D1 County Sligo Golf Club
D2 Carne Golf Links 
D3 Enniscrone Golf Club 
D4 Rosapenna Golf Resort (Sandy Hills Course)
D5 Ballyliffin Golf Club 
D6 Rosapenna Golf Resort 36 holes (Old Tom Links & St Patricks Links) 
D7 Donegal Golf Club
Depart
Review of Father Son Golf Trip to Ireland
I had to take a moment to write a review because it was such an amazing experience. I don't write reviews very often, in fact, I don't think if I've ever reviewed anyone or any business on google before. So that alone should tell you something. John set us up with a spectacular itinerary ( he was quite concerned that we wouldn't be able to handle it ) but I was insistent and he obliged quite well. He even went as far as asking some buddies to allow us to play with them at their member-guest tournament so that we could play courses that were closed to outsiders during a busy time on some of these courses. Wow-what amazing people to allow us to play with them, made some great new friends too. Had an absolute blast.

Top courses were Lahinch, Waterville, Tralee and especially Old Head Golf Links for scenery and fun. Favourite holes in order were 18 Old Head, Lahinch par 3 blind green (not sure which hole), Tralee 2, Ardglass 12 ( I think; the par 5 along the bay that I eagled ). John as an unexpected surprise, also added a 45 min lesson complimentary after he played a round with us at Cork Golf Club. Very good lesson and very kind of him. thank you for a wonderful trip john!! look forward to doing it again soon!
J. Feller, USA 
Pricing:
Mostly, a group of four golfers would expect to pay in the region of €3,000 – €8,000 per person for a golf trip that consists of the great Irish golf links courses over seven days. Notable the costs would include, taxes & charges, golf tee times, hotels, self-drive rental, private car, bus or helicopter travel. Indeed, the prices vary due to the season, accommodation type and either using a self-drive car rental or a private vehicle.
Certainly, a brief overview of customer benefits when booking with Concierge golf Ireland (CGI). Indeed, CGI ensures that all the tee times, hotels, rooms and transport are booked to satisfaction. Notably, we ensure that all our Irish Golf trips run without a glitch (but we can't account for the weather) by managing each service in specific detail. Thus, we leave nothing to chance, and ensuring everyone enjoys a great time in Ireland golfing!
Ireland Helicopter Golf | Fathers Day Golf Ireland | Concierge Golf Ireland | Contact Us Click HERE | Email: info@conciergegolfireland.com | Office Tel: +353 21 2427913
The scorecard at Royal County Down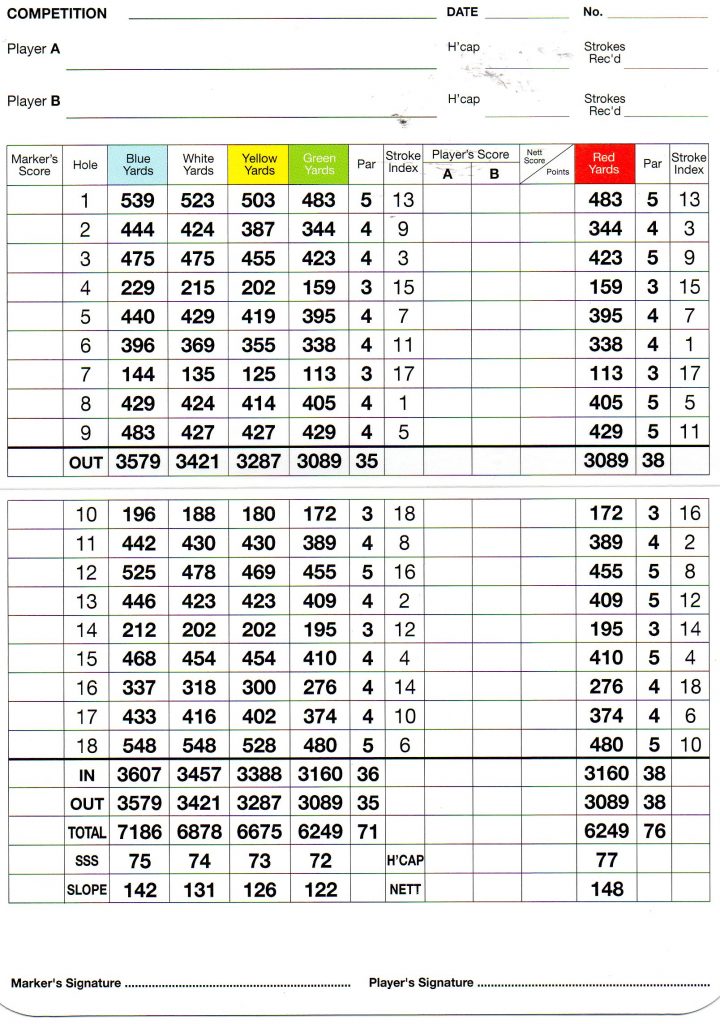 Contact Us for a sample Father and Son Golf trip to Ireland