HELICOPTER GOLF in IRELAND
Golfing and travelling by Helicopter Golf Ireland is undoubtedly the fastest travel method going from golf courses to the hotels. Since most of the top Irish links golf courses are located in various parts of Ireland. Traveling by car to each golf course takes a lot of time compared to air travel. We say skip the car and spent less time traveling by bus or car along the Irish roadways.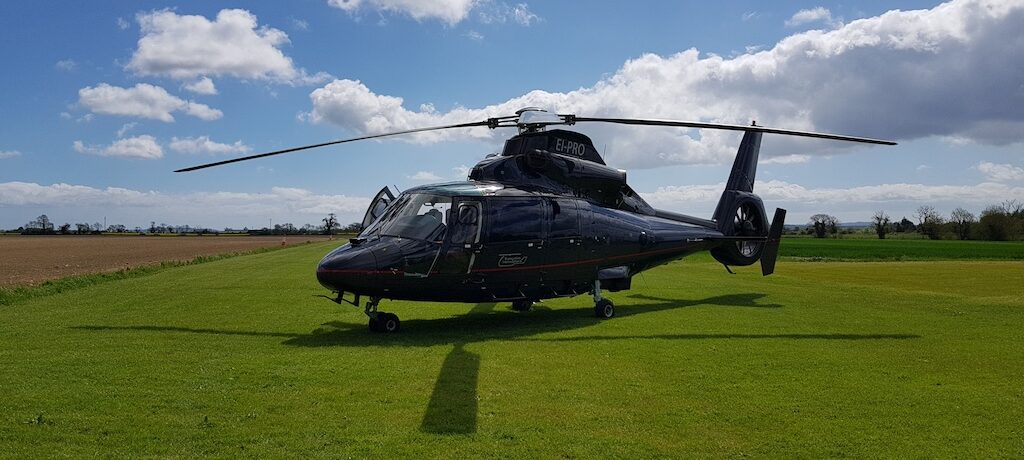 The beauty of touring by Helicopter is that the aircraft is likely to land very close to the clubhouse and the selected hotels. Therefore, there is very little time travelling by roadways and golfers can enjoy quick access to hotels, golf courses and airports. Essentially, the group can locate at one hotel for the Irish golf Helicopter trip and avoid any long commutes between airports, golf courses and hotels.
The following golf itinerary is one of the ultimate Irish Golf Helicopter Tours. Essentially, travelling by helicopter and playing golf on the best golf links courses in Ireland is genuinely fantastic. Each morning after breakfast, it's a short walk to the helicopter, the golf clubs are placed in the back of the helicopter, climb on board, fasten your safety belt and take off. The golf courses can be a short flight of 12-minutes or possibly as much as 50-minutes.
An Irish Golf Helicopter Itinerary: 
Golf Course to Play

5* Hotels

Transport

Pricing
Golf Courses to Play
D1 - Lahinch Golf Club                                        D2 - Tralee Golf Club
D3 - Old Course Ballybunion Golf Club            D4 - Waterville Golf Links
D5 - Old Head Golf Links                                    D6 - Hogs Head Golf Club
D7 - Portmarnock Golf Club                               D8 - Adare Manor Resort
D9 - Royal County Down Golf Club                  D10 - Royal Portrush Golf Club
D11 - Turnberry Golf Resort (Ailsa Course)      D12 - Doonbeg Golf Course
D13 - Depart
5* Irish Hotel
Nights 1 through 7, reside at Adare Manor Resort, Co Limerick, 5*  
Nights 7 through 12, reside at Trump Doonbeg, Co Clare, 5*
Transport:
Enjoy car services to support golfer's transport on request. In any event that the helicopters can't fly for heavy fog or etc. We will have a car arranged on standby to transfer golfers to their next destination. 
Indeed, Helicopter transfers from the hotels to and from golf courses for the duration of the trip.
Additional, Shannon or Dublin Airport fastrack platinum service on arrival and departure.
Pricing:
Finally, based on golf groups from 4 to 16 golfers. You would expect to pay approximately €7,000 to €75,000 per golfer. Indeed, the costs depends on the golf courses, customer services, hotels, and how many helicopter trips are required. Therefore, we recommend enjoying an Irish Helicopter trip during the months of May, June, July, August
Indeed, the Irish Helicopter Golf itinerary is the ultimate trip for golfing groups ranging from 4 to 16 players. Also, another critical point is that Concierge Golf provides highly responsive services to manage all of our Irish helicopter golf vacations.
Notably, Concierge Golf Ireland will have a representative available on site to manage and deal with any unforeseen issues. Indeed, CLICK here for a current blog post on Helicopter Golf Ireland.
Dooley Noted on Booking Helicopter Golf Ireland Trips
Five Extras to think about to enhance a trip of a lifetime!
Essentially, keep a daily video diary of the Irish Helicopter golfing trip. Additionally, hire a photographer to capture all of those golfing moments to create a photo-book.
Notably, ensure to add extra ground transportation to chauffeur golfers back and forth to different places without looking for taxis.
Indeed, be sure to book extra sights to see, such as a Helicopter trips to see the Cliffs of Moher, Aran Islands or the Skellig Islands.
Therefore, book early and be sure to secure one of our PGA Golf Concierges. Thus, great care and attention to the groups needs at all times. Ensuring every golfer enjoys their Irish golfing experience without stress.
Also, to avoid any disappointment, start to plan a Golf Helicopter Trip at least one year in advance.
Finally, please feel free to contact us today and we would be delighted to talk with you.

Also, please feel free to read more about fun things to do on helicopter golf trips and click here. & click here to review another sample Helicopter Golf Tour.