HELICOPTER GOLF in IRELAND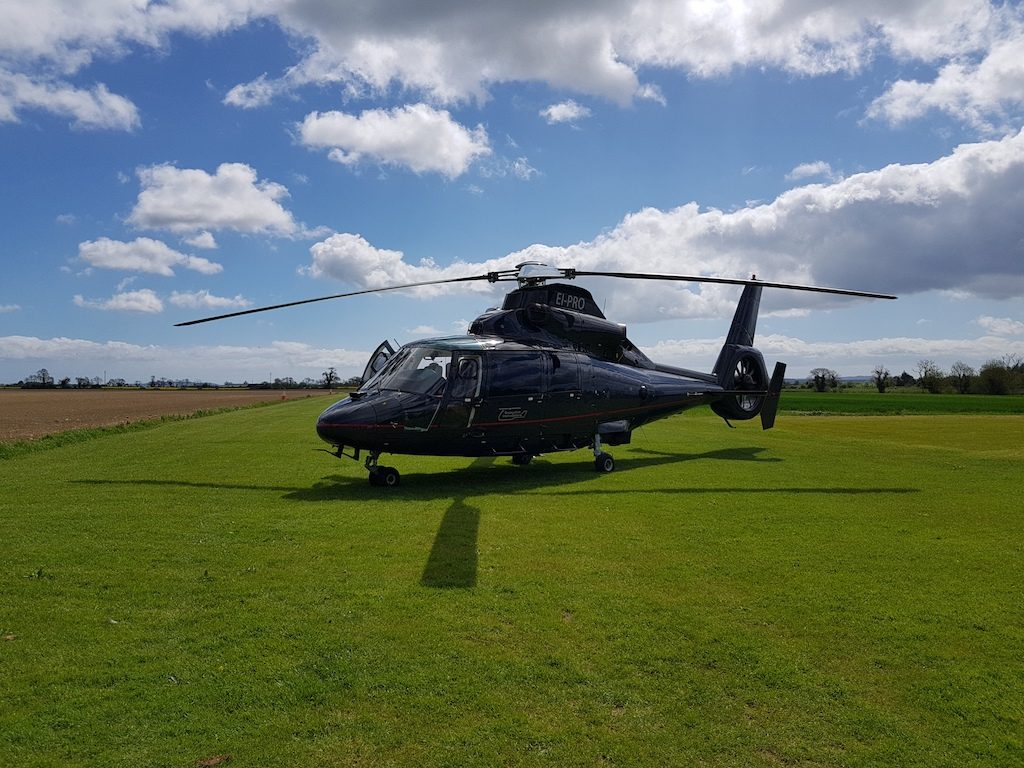 Golfing and travelling by Helicopter Golf Ireland is undoubtedly the fastest method for going from golf courses to hotels. Since most of the top Irish links golf courses are not located in the same area. More time is needed travelling by bus or car along the Irish roadways. Also, the beauty of touring be Helicopter is that the aircraft can land very close to the golf course and most hotels. Meaning golfers can enjoy quick access to the selected hotels, golf courses and airports. Therefore, the group can locate at one hotel over the course of the tour and avoid any long commutes between airports, golf courses and hotels.
I have created the ultimate Irish Golf Helicopter Tour. Essentially, travelling by helicopter and playing golf on the best golf links courses in Ireland is genuinely fantastic. Each morning after breakfast, it is a short walk to the helipad, which can be less than 100 yards from the hotel. Your golf clubs are placed in the back of the helicopter, climb on board, fasten your safety belt and take off. The golf course can be a short flight of 12-minutes or possibly as much as 50-minutes.
Generally speaking, the following itinerary is an ideal template for golfing groups ranging from 4 to 16 players.
Also, another critical point is that customer service requires a highly responsible person to manage this type of golf vacation. Notably, Concierge Golf Ireland will have a representative available on site to mange and deal with any unforeseen issues.
Overall, Shannon Airport would be the best-suited airport for this itinerary.
Day 1 – Lahinch Golf Club
Day 2 – Tralee Golf Club
Day 3 – Old Course Ballybunion Golf Club
Day 4 – Waterville Golf Links
Day 5 – Old Head Golf Links
Day 6 – Hogs Head Golf Club
Day 7 – Portmarnock Golf Club
Day 8 – The European Club
Day 9 – Royal County Down Golf Club
Day 10 – Royal Portrush Golf Club
Day 11 – Adare Manor Resort
Day 12 – Doonbeg Golf Course
Day 13 – Depart
Accommodation 
Nights 1 – 7 The Europe Hotel, Killarney 5*
Nights 7 – 12 Trump Doonbeg, Co Clare 5*
Transport 
Service car providing group transport support
Irish Helicopter Transfers from Hotels to Golf Courses
DAA Platinum Services for arrivals and departures
Restaurant Suggestions 
The Europe Hotel
Gabys Killarney
Rozzers Killarney
Doonbeg
Morrisseys Doonbeg

Dooley Noted on Helicopter Golf Ireland
In summary, Helicopter Golf in Ireland is the fastest transport method to move from the courses to hotels. It makes like so easy, as there is not much traffic in the sky.  To create great memories, consider creating a video diary of the daily Irish Helicopter golf trip. Another popular idea is hiring a photographer for a day or the weeks capturing all of those golfing memories.
As shown in the above itinerary you are playing the best Irish links golf courses across the whole of Ireland.
Concierge Golf will only work with commercial and reputable 5* aircraft companies such as Executive Helicopters and Westair Aviation.
Notably, every premium golf tour is accompanied by one of our Concierge PGA Golf Professionals. Our goal is to make sure that every golfer 100% enjoys their Irish golfing experience.
Finally, please do contact us, if you would like a full copy list of PGA golf tournament & event services.
Finally, based on golf groups from 4 to 16 golfers. You would expect to pay approximately €7,000 to €75,000 per golfer. The cost depending on tee time availability, sharing rooms or single occupancy, transportation and accommodation standards. Therefore, we strongly recommend planning this type of golf trip during May, June, July or August for the following year.
If you like what this type of golf experience, please feel free to contact us today and we would be delighted to talk with you. Helicopter Golf Ireland.